Best Family Friendly Activities In Melbourne CBD In Winter Holidays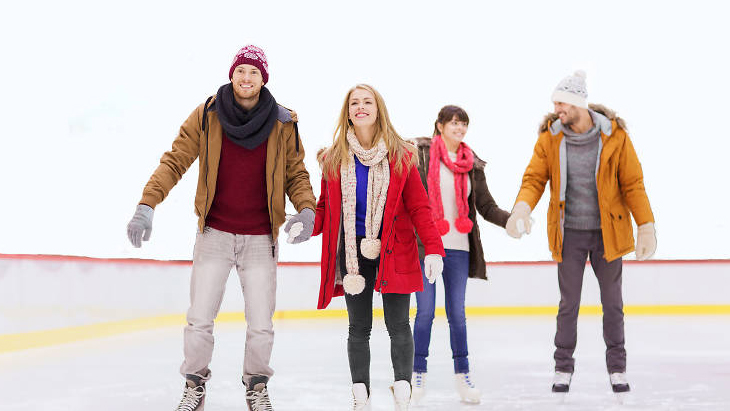 By: Ayesha Khan, ellaslist
There's still a week to go before the kids are back in school. That mean's mums and dads have to plan ahead and keep the days busy with fun things to do. Luckily there's an abundance of awesome things to do right in the heart of the city. Here are the best thrills and spills, exhilarating shows and icy cool adventures happening these holidays in Melbourne CBD and Docklands.
1. Wallace & Gromit And Friends At ACMI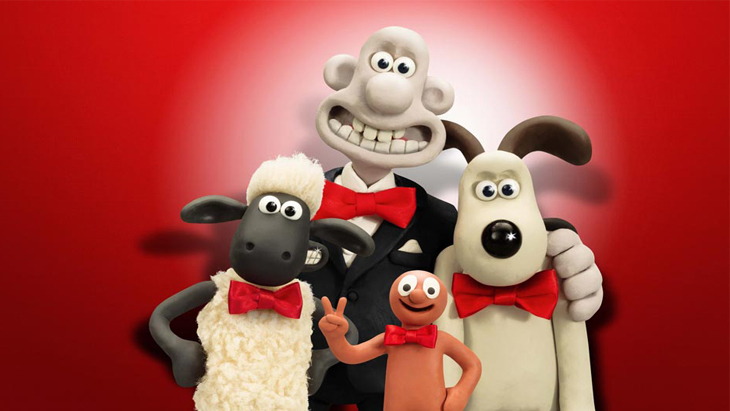 Calling animation lovers! Discover The Magic of Aardman At ACMI
Take a journey through the clever world of Aardman, the studio behind everyone's favourite quirky duo, Wallace & Gromit. There are sketches, models and elaborate sets to explore as your beloved characters take shape on the screen. Take a trip through Wallace's cracking contraptions along with 50 authentic film sets including Gromit's famous vegetable garden and the flying machine from the Chicken Run and the spectacular five-metre tall ship from The Pirates! Band Of Misfits.
Hand crafted plasticine models, concept drawings, character studies, storyboards and production design are all revealed, including never-before-seen treasures like the first ever drawings of Wallace & Gromit and the rocket from A Grand Day Out.
It will be a grand outing for the entire family as well as for lovers of animation and art alike
What you need to know
Where: ACMI, Federation Square, Melbourne
When: 29 June - 29 Oct, 10 am
Cost: Adult ($24), Child ($15)
For more information: see website
2. Melbourne Ice Slide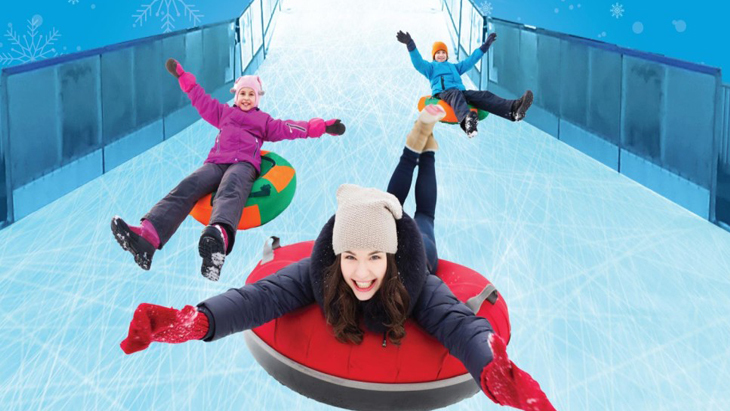 Hello Winter Holidays! During the winter school holidays, the giant Melbourne Variety Ice Slide returns for kids, parents and the whole of Melbourne to enjoy.
Warm up this winter with an exhilarating journey down the Melbourne Ice Slide on an inflatable tube alongside Southbank's waterfront.
What you need to know
Where: 7 Riverside Quay, Southbank VIC
When: 1 July - 16 July
Cost: A single ticket for $12 can be used for three slides and can be purchased onsite
3. River Rink At Fed Square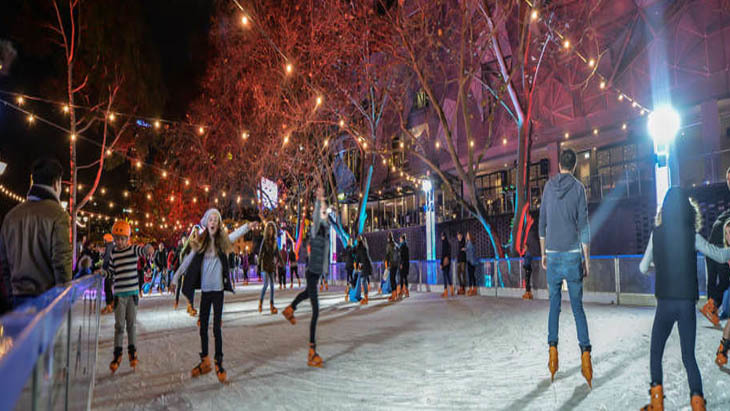 When is Fed Square not Fed Square? Every winter, when it's transformed into an epic ice rink! Bring your family and friends along for a skate while enjoying a picturesque backdrop of the Yarra River and the Melbourne city skyline.
Get your skates on and take a spin around River Rink at Fed Square this winter from July 1 to July 23. Ticket cost includes skates and 45-minute skate sessions starting every hour on the hour. For those who are unsteady on the ice, skating aids are available for hire at the box office.
What you need to know
Where: Federation Square, Swanston St & Flinders St, Melbourne VIC 3000
When: July 1 to July 23,
Timings: Sun - Wed (10 am to 9 pm), Thurs - Fri (10 am to 10 pm)
Tickets available from June 5, 2017 here.
4. Polly Woodside Tall Ship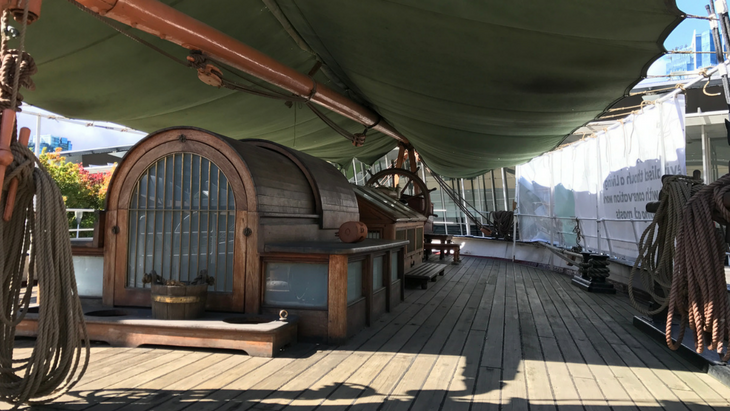 After traveling 1.5 million miles and circumnavigating the world 17 times The Polly Woodside now welcomes you aboard.
Built in Belfast in 1885, the three-masted cargo vessel carried coal and wheat between England and South America.
You can join the crew, come aboard for a tour of the ship and discover what life was like on a tall ship sailing the seven seas.
Polly Woodside offers a range of activities for visitors including a history gallery, wharf with picnic facilities and guided tours. Also available are Children's Birthday parties, Pirate Sundays, live theatre and school excursions.
What you need to know
Where: 21 S Wharf Promenade, South Wharf
Normal Trading Saturdays & Sundays 10am-4pm (last entry 3.15pm)
School holidays every day (subject to change) 10am-4pm (last entry 3.15pm)
Cost: Adults ($15), Child (3-15yrs) $9.50
5. Snowtime At Wonderland Junior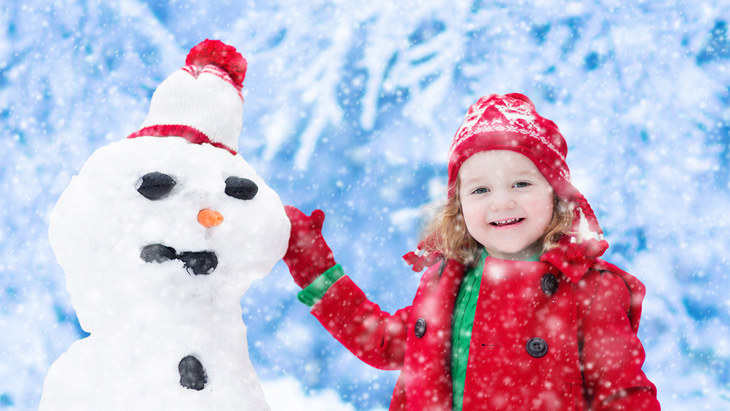 It's Snowtime at Wonderland Junior!
The kids' missing out on seeing the white stuff these holidays? Bring the kids along to Snow Play at Wonderland Junior, an undercover snowy adventure zone with live snow falls, snowball throwing, snowman building activities and mini snow mountain for the little ones to slide down.

Come along and play in the best man-made snow in Melbourne! The snow is so real like that you will feel like you've taken a trip to the North Pole! Make sure the little ones have gloves on to keep the little hands warm along with gum boots and a spare set of clothes as well for kids and parents.
Afterward, everyone can look forward to warming up with a Tim Tam Marshmallow Hot Chocolate and other carnival treats such as candy floss, popcorn, hotdogs and more.
What you need to know
Where: 101 Waterfront Way , Docklands VIC 3008
When: 1 July - 16 July, Mon - Sun (11am - 5pm)
Cost: Child ($18), Adult ($10). One adult can enter free of charge with children under 8 years.
For more information: see website
6. Ickypedia At Melbourne Art Centre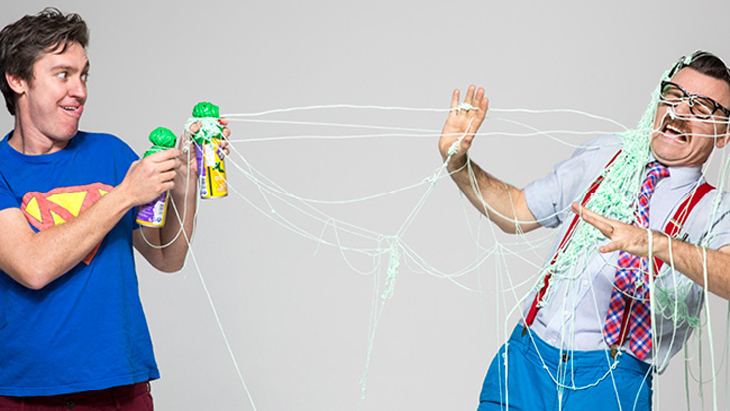 Kids comedy as you've never seen before!
Australia's favourite kids comedians, The Listies, bring their best-smelling book Ickypedia: A Dictionary of Disgusting New Words to the stage in a brand new show!
It is a seriously silly show that answers all of life's unimportant questions, like: how do you take a smellfie? What does poetry sound like? How does one avoid a fartquake?
Anarchic, spontaneous and astoundingly funny, Ickypedia delights audiences of all ages.
What you need to know
Where: 100 St Kilda Rd, Melbourne VIC 3004
When: 11 - 15 July, 11am and 2pm
Cost: $28
For more information, see website
7. Circus Oz - Model Citizens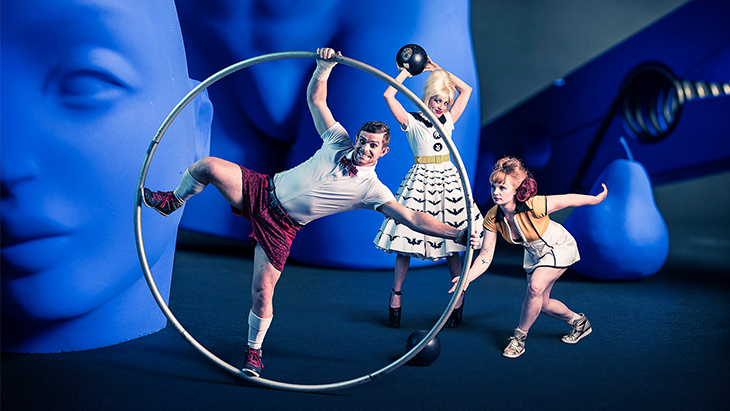 Circus Oz explodes back onto the stage in Melbourne this July, audaciously unpacking the myths of modern Australia in their latest high-octane circus show Model Citizens, the first creation fuelled by the new Artistic Director Rob Tannion with an amazing new acrobatic ensemble.
Stunningly lit and driven by a sensational live music soundtrack, Model Citizens seamlessly blends the risk and beauty of breathtaking physical improbability with no shortage of theatricality, choreography and, of course, absurdity!
The action unfolds within the cleverly designed model kit world which challenges perspective, scale and normality. Oversized everyday objects become an intriguing new playground of possibilities for the all-human ensemble, offering a new life as unexpected circus equipment. Imagine scaling a 6m safety pin, backflipping off a giant vertical clothes peg, getting tangled in an oversized cotton reel, or flying high in an enormous pair of aerial undies...
Audiences will be taken on a visually and emotionally charged journey by the multitalented Circus Oz ensemble, exploring what it really means to be a model citizen in today's model kit society.
Where: Under the Big Top, Birrarung Marr, Melbourne
When: 20 June - 16 July 2017
For more information and show times, visit the website.
8. LEGO CITY Play Zone At Harbour Town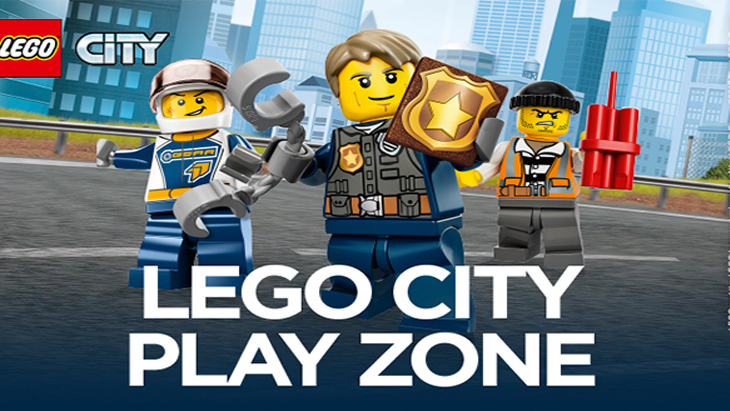 Winter holidays are here and it's cold. Everyone is in search of things to do with kids that will keep them warm, dry and happy. FREE LEGO play can help save the day. Most kids love LEGO at some stage in their lives, a whole heap of big kids do too! So head over to the FREE Lego Play Zone at Harbour Town these holidays.
The LEGO Play Zone opens 3 July till 16 July. Kids can let their imagination and creativity go wild and make some real cool LEGO creations from the huge collection of LEGO pieces at the Play Zone.
Other fun activities include taking up the team challenge and building the tallest tower of LEGO at the Height Challenge. Teams will go head on with other teams to see who can build the highest tower in a given time. Kids will also have a chance to meet their favourite LEGO characters such as the LEGO City Policeman. Snap some pictures in the LEGO Jail and the LEGO Fire Station or play super-fun LEGO city iPad games and see the virtual LEGO brought to life.
Kids can also be marveled by some of the large LEGO models on display
What you need to know
Where: 440 Docklands Dr, Docklands VIC 3008
When: 3 July - 16 July 10am - 6 pm (Mon - Sun)
This is a FREE event
9. Slide, Skate And Chill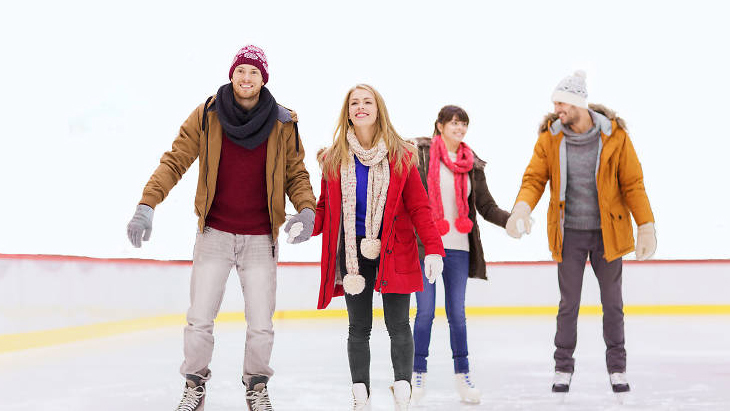 Can't take the time out to head to the snow this winter? Don't worry because there are plenty of snow themed options right here in the city.
The Common Man lawn is set to be transformed into an arctic oasis complete with an undercover Riverside ice rink, toboggan slide and chill out zone.The kids will love skating around the rink and then sliding down the toboggan slide. But the fun isn't over yet. Head over to the Absolut Vodka & Lavazza Coffee Chill Out Zone for some hearty hot chocolate and a treat or two for the parents as well. Or simply re-fuel with some quintessential winter warmers including gourmet pies, hots dogs and donuts, and the infamous South Melbourne Market Dims Sims.
Every day is a themed event. Get set to find your groove on the themed nights such as RnB Fridays or enjoy a special date on Date Night Thursdays or simply round up friends and family for Family Sundays.
What you need to know
Skate / slide session lasts 45 minutes and begins on the hour, every hour.
Tickets include skate hire as well as the use of toboggan & grant access to both the skating rink as well as the toboggan slide during your 45 minute session.
Minimum age 3 years
Where: The Common Man Lawn, South Wharf
When: 1 July - 31 August
Price: Adults $24.50 , Kids (6-14) $ 18.50 , Kids (3-5) $15
For more information: see website