Australia, we have Donut Cones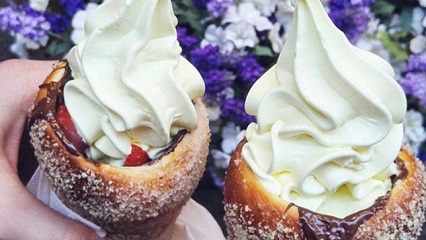 ellaslist COVID-19 update: Please note that all the information on the website is correct at the time of publication. Please check the relevant website before visiting a venue or destination for the latest COVID-19 information. ellaslist is not responsible for any cancellations or closures.
By: Zoe Crane, ellaslist
Ice-cream, meet doughnut. I think you guys are going to get along! The latest sugar-high to hit Instagram is coming to us all the way from Prague – donut cones.
Dessert has no Boundaries

A cafe in Prague has gained worldwide notoriety when they took a traditional Slovakian pastry and gave it a modern twist. Trdelník is a sweet pastry cooked around a rod to create a hollow tube, covered in sugar and walnuts. But a savvy café in Prague called Good Food Coffee and Bakery has turned the tube shape into a cone and is filling them with gooey chocolate and soft serve ice cream. With the current craze of Instagramming delicious desserts, the creation soon reached Australian screens, with Good Food writing about them on them in early March.
I Must Have One Now

While images of the Prague originals have been creeping into Facebook feeds around the world, enterprising foodies have been recreating them in their own hometowns. Good Food suggested getting a cone-shaped custard pastry from Adriano Zumbo's Melbourne café Little Frankie's and adding some soft serve from his nearby Fancy Nance's.
A mere ten days later and Adriano Zumbo has jumped on board and is now selling the soft-serve filled doughnut cones in Melbourne. You can even choose from eight different toppings to pile on top. Yum!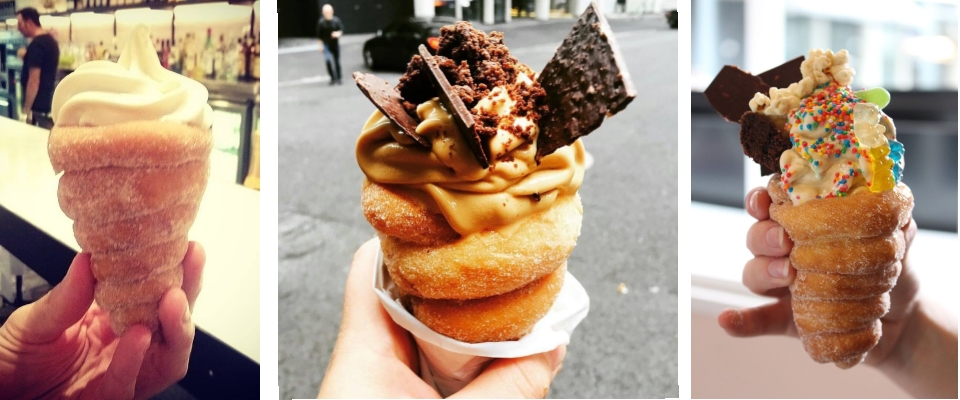 Soft-serve Donut Cones from Adriano Zumbo's Little Frankie's Image Credit: Adriano Zumbo / Facebook
But a trip south of the border won't be necessary for long, as he has announced plans to bring them to Sydney soon. If you can't wait that long, Good Food recommends picking up a chimney cake from Kurtosh in Surry Hills, and heading up the road to Messina to fill it up.
New Bondi burger joint Milky Lane, which is due to open in April, will serve the traditional Trdelník, but they've named them CoNuts and will fill the pastry with salted caramel, Belgian chocolate, vanilla soft-serve and melted Nutella.
The world just got a little smaller, and dessert just got a little better.
ellaslist wants to hear from you, have you recreated a dish you tried overseas?