Anti-LEGO Slippers will Save Our Feet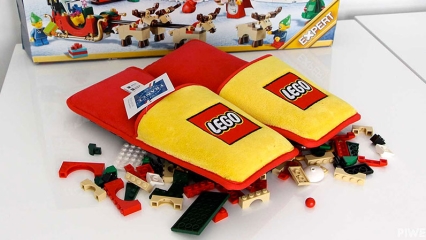 By: Lisa Wolff, ellaslist
Yee-Ow!! Ouch!!! Ouch!! Ouch!!!
Shhhhh!

Most evenings when the kids have all gone to bed, I walk through the tiny toy gauntlet – a minefield of excrutiating pain. Those pesky little LEGO bricks, that we invariably miss during pack-up time, are always waiting to attack my tender feet. And what's worse, I have to mask my shrieks in case I wake the kids.


Image from averageparentproblems
They certainly don't warn you about this when you first become a parent. And I've never seen a warning label on a LEGO box anywhere. But most mums and dads will soon experience the torture of stepping on a piece of LEGO.
Thank goodness, there is now a solution and heaven knows why it has taken so long! LEGO, have teamed up with French advertising agency Brand Station, to invent the anti-LEGO slippers! These must-have footwear are packed with protective padding to ward off any further LEGO invasions.
Image from Piwee
However, there will only be a handful of people lucky enough to own these coveted slippers. The rest of us will have to suffer for a little longer. The word on the street is that Brand Station is only producing 1,500 pairs of the slippers, which will be dished out randomly to people who fill out a Christmas wish list on the LEGO French website.
Our feet can't wait to get hold of a pair!