Animaltastic Adventures at Featherdale Wildlife Park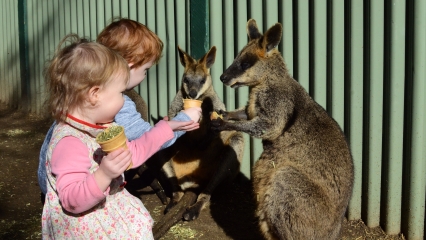 By: Sarah Stores, ellaslist explorer
What an amazing animaltastic morning we had a Featherdale Wildlife Park in Doonside last weekend.


Our kids were excited and bundled into the car early to head out to see the 'roos and koalas. We had all looked at the Featherdale website the night before to plot our route and feeding the Kangaroos was a definite priority.
Easy Drive, easy parking, easy ticketing
It was an easy drive from the centre of Sydney and there was plenty of parking when we arrived. The box-office area has lots of animal sculptures which was great to keep the kids entertained whilst we collected our tickets.
Featherdale really is an animal-loving little-kid (and big-kid) wonderland! The kids were so excited to see the cockatoos and the other beautiful birds, a wombat and some free-hopping wallabies. They ran from one animal to another with such glee. In the first part of the zoo most of the sections are enclosed. I suppose this is to keep the animals in, but it has the added bonus of securing run-away kids within the area as well!


There are some lovely surprise interactions with the wildlife and we passed by a staff member holding a shingleback lizard for the kids to pat and hold.
Cuddles with the Koalas
Continuing on past the pelicans we entered the koala enclosure. There were lots of koalas dotted close by in the trees. Some were sleepy and others were climbing up and down. There was the opportunity to stand next to a koala and get a photo taken but the line was long and my kids had spotted the feeding enclosure for the kangaroos and so we headed straight there. Luckily there were other opportunities to spot koalas later on through the park.
Fun with the Kangaroos
The kangaroo petting and feeding area was amazing. The 'roos were so friendly and tame and didn't seem fussed by the many people shoving ice-cream cones filled with grassy food in their faces. This section was bustling but we managed to find a few quieter kangaroos to feed and pat. The kids sat and chatted to them for ages.


Later on we found a 'secret' walk through a kangaroo enclosure near the back of the park. This kanga home was away from the crowds and flooded with sun (a bonus in the winter!). We spent a long time getting to know these kangaroos and we even discovered one with a Joey. Our Master 4 was absolutely fascinated by this concept and very concerned that the poor Joey would be squished!
As we walked along the pathways, the park continued to deliver amazing animal delights. Echidnas, penguins, emus, crocodile and howling dingoes. It was a jam-packed morning.
Bats & Barnyards
Our Master 4 is currently obsessed by bats so we carefully followed the map to find an enchanting active enclosure of flying foxes. Good thing the park is really well designed and the kids can explore the warren of animal attractions without getting (too) lost.


After the flying foxes we headed straight to the Barn Yard walk-in enclosure. This is another delight with sheep, goats, geese and lambs running around and bunnies in hutches that your little kids can chat to. Our 18-month old had the best time chasing some slightly bemused geese.
We dropped by the easily accessible reptile enclosure before ending with an ice cream in the darkened bat enclosure. The little ones loved running through the enclosure and back again to check if the bats had flown away.
Have you had your passport stamped?
My kids were too excited about the animals to fill in the passport that you receive with your tickets. But I imagine this would be a big hit with slightly older children (or children who can stand still for more than a minute). At various points through the park there is an animal stamping station so you can complete your passport full of stamps. But don't worry if you don't get all the stamps as you wonder through. Helpfully, there is a stamping station at the exit so that you can make sure you go home with a full complement of stamps.
There is a café and shop on site and toilets dotted throughout the park. There are also picnic benches well positioned for perfect snack intervals for the kids. We also spotted some BBQs at the exit.
HOT TIP ALERT
One hot tip, if you are visiting after some recent or heavy rain then I would suggest that the kids wear gum boots or that you bring a change of clothes (or both!). As well as animal spotting we did a lot of muddy puddle splashing (I have boys after all..) and we were all covered in mud (and ice cream!) on the drive home.
THE ESSENTIAL STUFF
Opening Hours – 9am – 5pm Daily
Ticket Prices -
Adults – $29.50
Child (3-15 years) – $16.00
Family (2 adults/2 children) – $83.00
Family (2 adults/1 child) – $69.00
Family (1 adult/2 children) – $56.00
Kids under 3 are free
Getting there -
Featherdale lies just 40mins from Sydney's CBD, at the junction of Sydney's key link motorways – M2, M4 & M7. It can be easily reached by car or public transport.
I'm Sarah. A Mum of two over-active boys and a self-confessed Sydney tragic. I love living in, exploring, discovering and experiencing all Sydney has to offer. Having lived in Sydney most of my life I have loved exploring it as a grown up but now as a Mum I'm relishing re-discovering my passion for Sydney through the eyes of my boys. I love planning and executing our regular family outings to explore new things in Sydney. As a working Mum, it is a great way for our family to stay connected and have fun together. I would love to spend all my time travelling the world but given I live in the real world of mortgages and jobs we see exploring Sydney as tourists as the next best thing. You can follow our adventures on
Instagram at SarahStores
Reviews

Reviews get lonely too
Be awesome and write a review