And The Winner Is......GAP Casting Call Starlets Announced!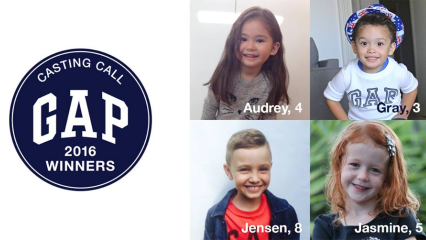 The GAP Kids Casting Call is now over, and what a smashing success it has been! We were lucky enough to be on the judging panel and have found the sweetest little faces that capture GAP's unique spirit and essence. It really proved to be all about individuality with the competition lead by four winners whose smiles and spirits leapt from their photos.
Meet the Winners!
(From left to right)
Audrey, 3, the 'baby' of the competition enjoys singing and is from NSW. Judges just couldn't go past her fresh face and sweet smile.
Gray, also 3 years old, is from South Australia, and he enjoys pretend play. Even from this one photo, we just knew Gray was full of personality!
Jensen, 9, is the big boy of the lucky winners. He loves rugby, and is from NSW. Judges just love his Aussie look.
Jasmine, 6, with her gorgeous red hair, is always dancing, and lives in NSW. 
These new faces of GAP have each won $1,000, will be featured in GAP's winter campaign, and in Child Magazine. ellaslist would like to wish all winners a big congratulations!
Fan Favourites
A special congratulations goes to the 10 fan favourites who were extra popular on the GAP Facebook page who each won a $100 Dymocks voucher, $100 child.com.au gift card, and a GAP kids t-shirt. The winners in this category are Daniyal, Bronte, Phoebe, Frank, Reine, Sophia, Andrea, Selwyn, Mischa and Althea.
Thank you to GAP and all the kids that entered!