A Wild Birthday Party With Some VIP Guests At Featherdale Wildlife Park
Tell them ellaslist sent you: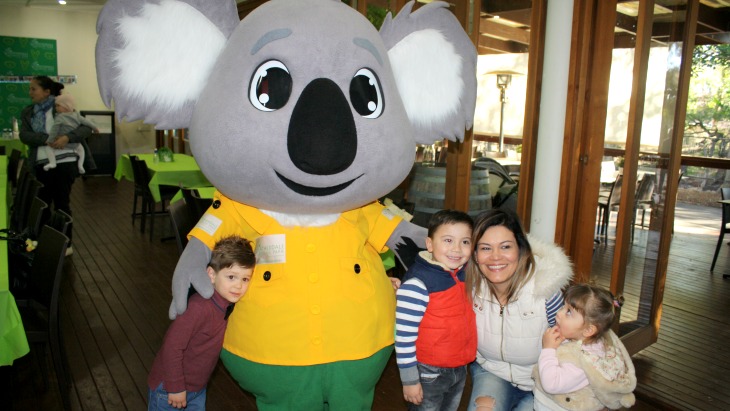 By: Alex Harmon, ellaslist
Having a winter baby is hard, and I'm not talking about the desperate measures you take to keep them warm when they're first born, worried sick that the room is too cold or too warm and if their little socks are going to come off in the night. I'm talking about the winter birthday parties you have to organise!
My son's first birthday party was all planned to be a casual barbeque in the park, but that fateful July day came around and it was one of the wettest days on record, I still remember the news reports of arctic winds gusting through Sydney. We made a last minute decision to hold his party in a pub, which cost us a fortune and meant the freezer was stacked full of sausages for months. His second birthday looked much the same in the weeks leading up so we canned it and celebrated just with family and a little cake at home.
As they say, third time is a charm, and as luck would have it - we found the perfect winter birthday party does exist. Featherdale Wildlife Park throw kids a party that makes your child feel like a rock star - complete with a pack of wild, furry and scaly groupies who turn up to 'crash' the party. And in any weather they make it a fun experience so there's no stress leading up to the event and no need for parents to constantly refresh the weather reports.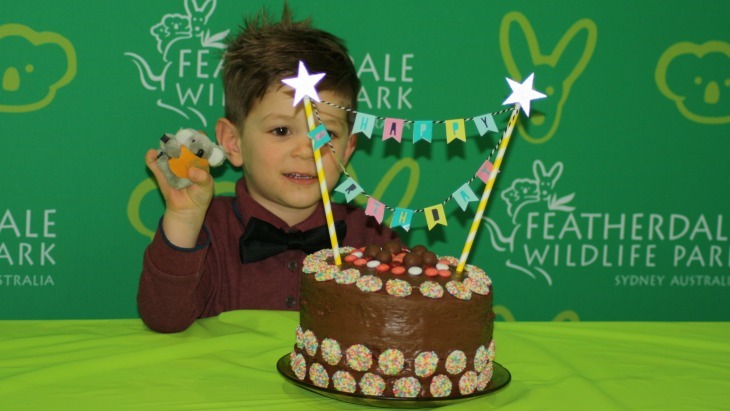 All Calm Behind The Scenes
We all know the most draining part of a birthday party is the planning, but at Featherdale you don't have to lift a finger. Apart from making a cake, all we had to do was show up and be whisked away into our private party room which was decked out in green decorations and included a special cake table for the birthday kid - seriously he looked like he was at a press conference - total rock star. As Mr 3's guest rolled in, one very special guest arrived - Archer the Koala, Featherdale's mascot who greeted all of the children with high fives and cuddles. He handed out presents for everyone, not just the birthday boy, which was an extra cute touch.
The party room is huge, open and unlike other party rooms, isn't tucked away in a dark space - in fact, the Drover's Hut as its known, overlooks the park so you can see the trees and people whizzing around enjoying the park.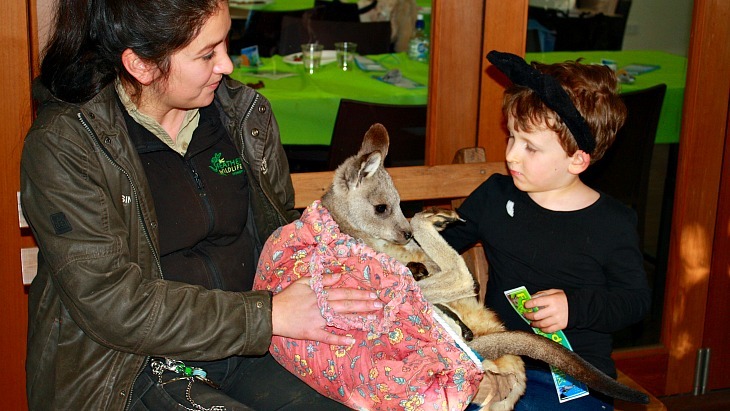 Very Special Guests
After the party food was served, in this case chips and chicken nuggets shaped like dinosaurs, two park rangers arrived with some very special party guests. Smithers the snake and Wilfred the baby joey! The party guests all lined up to get up close and personal with these native animals, taking turns to have a cuddle, a pat and a photo with these exciting and cute creatures. The rangers gave the kids an entertaining talk on the animals, asking them questions and engaging everyone with interesting facts and titbits. Mr 3 was a little nervous about patting Wilfred but after some gentle coaxing, managed to have a precarious cuddle. When it was time to touch Smithers the snake, he shocked us all by diving right in - a proud parent moment - and by the look on his face, a proud moment for him too.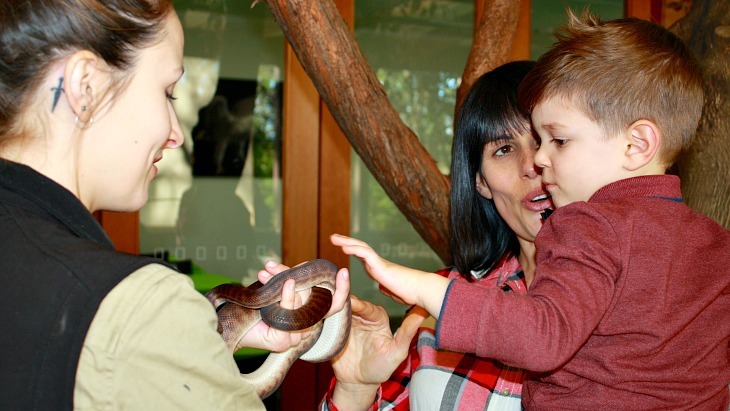 Parents Love Featherdale Too
There's something about a Featherdale party that makes parents feel completely at ease. It must be because you're so close to nature and within reach of cute baby animals that gives you a feeling of calm, even as your kids bounce off the walls with excitement. Also the adult platters are exceptional, we chose a dips platter and a pastry platter with mini pies, quiches, meatballs and pastizzis - there was so much food and the parents all commended us on not serving chicken nuggets to them - although those dinosaur nuggets were delicious, just quietly...
Another bonus is you get your own party host - our host Sally was super friendly and not only charmed the children, she made us parents feel completely at home - she even served cake and cleaned up our mess - what a superstar!
The room is yours for 90 minutes which is more than enough to eat, meet and greet the animals and sing "Happy Birthday". After that you'll find that the kids are desperate to get out and experience all that the wildlife park has to offer. Generously, Featherdale gives all the kids tokens for kangaroo food so everyone makes a mad dash for the kiosk so they can get hands on with the animals.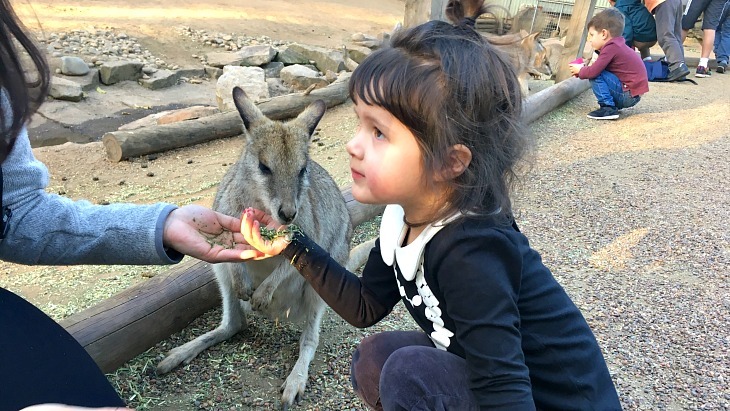 Kangaroos And Koalas And Wombats, Oh My!
Featherdale is Australia's largest collection of native animals and unlike other zoos, you can get as close to the animals as you feel comfortable with. The red kangaroo enclosure was a big highlight for Mr 3 and his friends. In there they could pat the friendly joeys and hand feed their hungry new friends. If you're super organised you can plan your trip to coincide with some of the private encounters with Wallabies, Kangaroos, Quokkas, Ringtail Possums, Sugar Gliders, Wombats, Bearded Dragons, Snakes or even a personal cuddle with a Koala!
The Party Never Stops
Kids don't just leave with a lolly bag, part of the birthday party package includes an extra ticket to the wildlife park, so kids can get free entry another day. We had guests travel all the way from Newcastle to attend the party and they're already planning their next trip back - the kids loved it that much.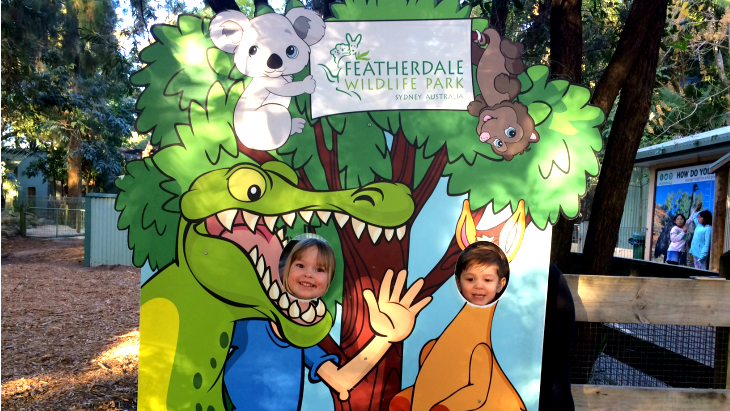 The Details
The park will cater a package to suit your needs, but as a base, each of the kids birthday party packages include:
- Admission to Featherdale for children
- A private amphitheatre for 90 minutes
- Party Host to prepare, coordinate and clean up after the party
- Small plush toy for each guest
- Free admission for 2 parents or guardians
- Discounted admission for attending adults
- A complimentary return ticket for each child
- Animal Food for each child
- A special plush toy for the birthday child
- Featherdale themed invitations for printing
Getting There: Featherdale lies just 40mins from Sydney's CBD, at the junction of Sydney's key link motorways – M2, M4 & M7. It can be easily reached by car or public transport.
Facilities: Featherdale's facilities include a Café, souvenir shop, FREE Wi-Fi and shady picnic areas with BBQ's. And it is ideal for young and old with the Park level throughout and baby changing and disabled facilities also provided.
Contact: Make your party enquiry here or call Featherdale direct on 02 9622 1644. For more information got to theFeatherdale website!
Featherdale is open everyday 9am to 5pm (closed on Christmas Day)
Book your tickets online!
Reviews

Reviews get lonely too
Be awesome and write a review