A Sneak Preview to Hi-5 House of Dreams Tour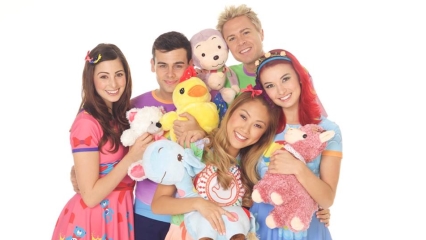 By: Heather Gow, ellaslist explorer
There are a few fundamental questions that need answering when you try to shape your personal identity as an Australian. Do your loyalties lie with Ford or Holden? AFL or NRL? Milo or Quik? Do you do tomato or barbeque sauce on your bacon and egg roll? And, if you are aged five or under, or are the parent of such a person, the most important question of all: The Wiggles or Hi-5?
I must admit that, up until recently, The Wiggles probably enjoyed a slight advantage in our household. However, that was all blown out of the water last Thursday when my five-year-old daughter, Annabelle, and her best buddy Franki had the chance to get a sneak-peek at Hi-5's new show as part of ellaslist's explorer program.
Two very excited girls and I were invited into a backstage rehearsal space at Chatswood's Concourse theatre complex along with thirty or so other preschoolers and their associated grown-ups.


A VIP Hi-5 Preview
Hi-5 members Stevie, Dayen, Tanika, Ainsley and Mary were tremendously warm, welcoming and attentive to their little audience members and after explaining that the set and the props were still in preparation and asking that the little ones engage their imaginations to supply the full experience, they delivered a high-energy, beautifully choreographed and very entertaining preview that had the adults grinning from ear to ear and the kids dancing in the aisles.
Dubbed the Hi-5 "House of Dreams" tour, the show is set up as a slumber party, with the set including bunk beds and a huge dreamcatcher. Chats the puppet made an appearance to tell a bedtime story. Much to the delight of my dragon-loving daughter, the story included one of her favourite creatures, played by Tanika with a doona over her head, with real-life teeth, tail and fire-breath willingly furnished by thirty little imaginations.
Lots of laughs
Slumber party hijinks also included a pillow-fight, which was a triumph of physical comedy, given that it was partly and hilariously performed in slow-motion. Stevie eventually emerged as the Pillow-Fighting Champion and provided much inspiration for my daughter to try at home.


Interspersed with Hi-5's trademark catchy tunes and groovy choreography, it was a hugely entertaining show and children and adults alike were disappointed when our "sneak-peek" came to an end.
Hi-5 Meet and Greet – what a treat!
The cast members incorporated the impromptu contributions of the more extroverted children beautifully into the show and lined up for chats and photos with all the children afterwards. They seemed genuinely engaged and tickled by the interaction with their little fans.
Annabelle and Franki debated their "best bits" on the car trip home and Franki's mum later reported to me that Franki had told her it was the "funnest day EVER!" Annabelle has requested that we find a space on her wall for her autographed Hi-5 poster and has been carrying a flyer around for days as a pointed reminder for someone to buy her a ticket for the "big show". I'd say we'll be there with bells on. The Wiggles have got a (pillow) fight on their hands.