School Holidays Very Well-Spent With Macquarie University's Mini MacWarrior Program!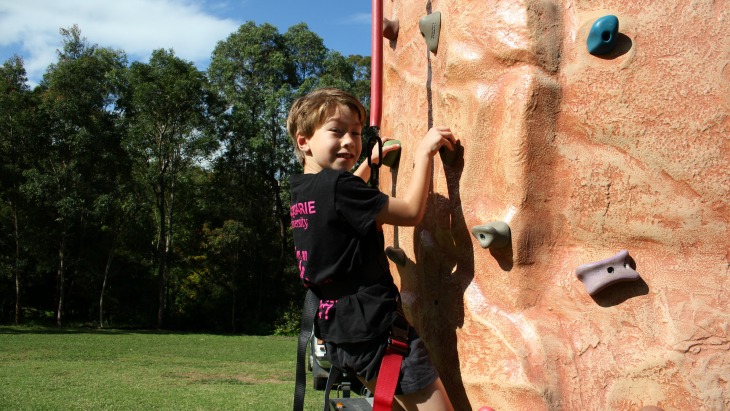 By: Vanessa Mah Chut, ellaslist explorer
With at least twelve weeks of school holidays for kids each year, it can be a struggle for working parents to plan for interesting and affordable care for their children. There are many vacation care options out there, so I took along my 6-year-old son to road test one of them. We attended two sessions at the Mini MacWarrior Holiday Sports Program. This program is run at the Macquarie University Sport and Aquatic Centre. It runs alongside a Holiday Gymnastics Program and a Holiday Swimming Program.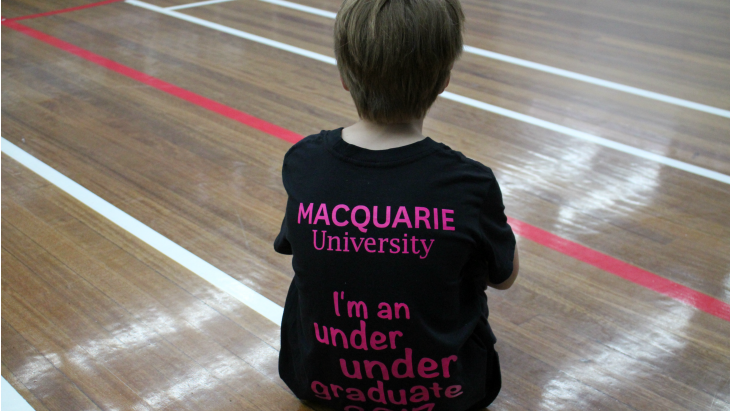 Fun & Games From The Get-Go
Drop off time is between 8 and 9am on one of the squash courts in the centre. This is the base each day and where the kids leave their bags. Here there is a range of activities on offer for kids to settle in with their new friends and instructors. These include large connect four and jenga games, colouring in sheets and coloured paper for origami and paper plane building. On their first day at the program, each child is also given a Mini Mac Warrior t-shirt which helps to ensure that everyone is in the right place at the right time.
A Heap Of Sports & Activities On Offer
After 9am it was time to head to the activities. Each day there are three main structured activities and these can be viewed on the website when booking. If your child needs to attend each day, then they are assured of a range of activities. However, if your child is only attending for a couple of days during the holidays they may like to pick and choose which days they attend according to their activity preference. For the recent holidays, the activities offered included AFL, tennis, rugby union, skate and scoot, hockey, planetarium, netball, soccer, squash and lots more. Some of the activities are run by the Sports Program instructors and others are run by experts in the field.
So our first day started with some group games of bowling, a Pacman tipping game, bull rush and some games of basketball and soccer. This was a fun warm up session and having a range of equipment available, the kids were able to play activities that were of interest and suitable for their age. After this, it was time for morning tea.
Kids Will Be Busy All Day Long
From here the larger group was split into two smaller groups according to age. One group was off to wheelchair basketball and our group went to art and craft. Here the kids made Easter hats which they all enjoyed and kept them busy right up until it was their turn for wheelchair basketball.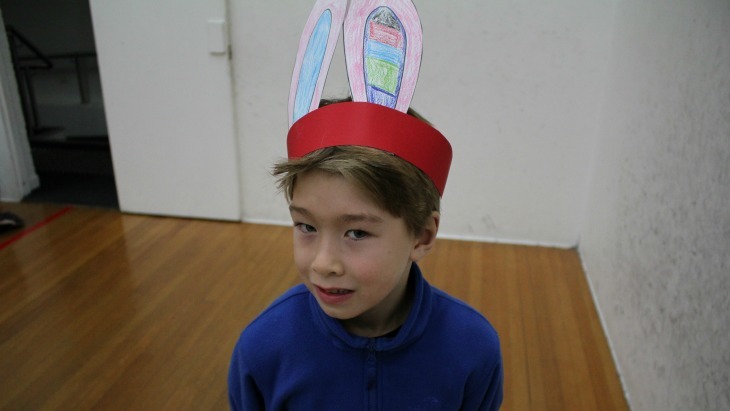 Wheelchair basketball is one of the activities in the Holiday Sports Program where external experts come to run the activity. Two instructors from Wheelchair Sports were there to guide the kids through a range of activities. Every child had a wheelchair and they started by having some free time to try and work out for themselves how to manoeuvre it. After this, they had wheelchair races up and down the court. They concluded with a game of wheelchair basketball. Given that I was with the group of 5-8-year-olds, I was amazed at how fast they picked up the sport and how much they enjoyed it. They were soon racing up and down the court using their chins to hold the ball in place on their laps and shooting goals.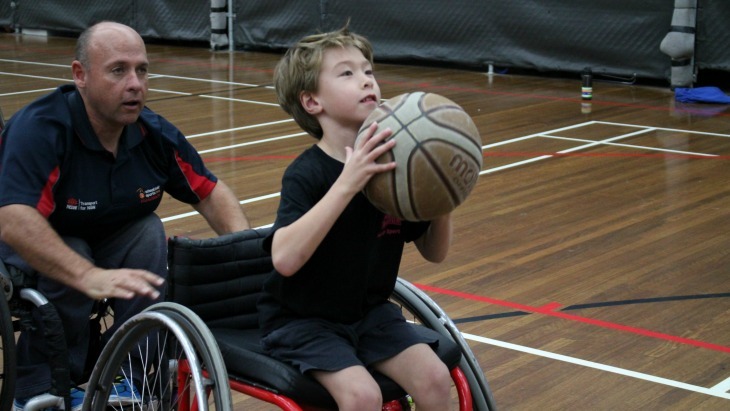 These activities took us up to lunch. Everyone needs to bring their own food for the day but the kids can also place an order at the cafe. Each lunchtime, one of the instructors walks the kids who have ordered up to the cafe upstairs in the same building, to collect their lunches.
Next Stop: Rock Climbing
On our second visit, the kids were split into two groups according to age straight away and we went directly to rock climbing which is another activity run by external experts. Very quickly the kids were harnessed and up the wall, four at a time. It was incredibly safe as they used an automatic belay system which gave the climbers a smooth and safe decent at any time of their climb. For most of these young ones two or three climbs was enough, and our instructor had some balls on hand for basketball and soccer for those who had completed their climbs.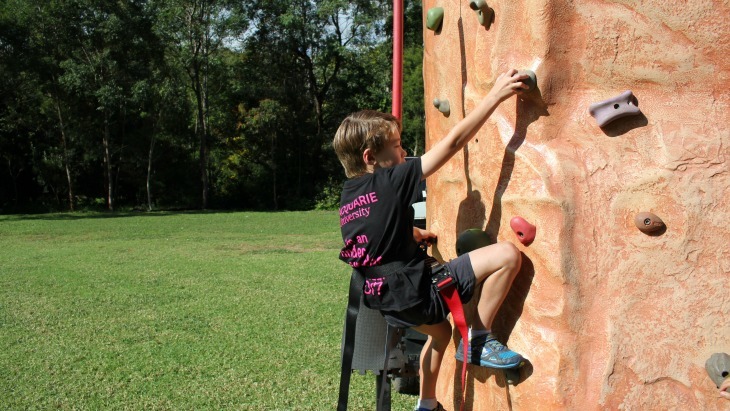 Age Appropriate Games Run By Energetic Staff
We were then supposed to swap with the older group for a movie session but due to technical problems this session couldn't take place. The instructors seemed to be well trained in age appropriate activities and they quickly filled the time with a variety of engaging games such as splat, fruit salad and musical chairs. It seems that most of the instructors are university students who work at the Macquarie University Sport and Aquatic Centre during term time and who are trained to lead the Holiday Sports Program. They are young and enthusiastic and took their time to get to know the kids and look after the younger ones in particular.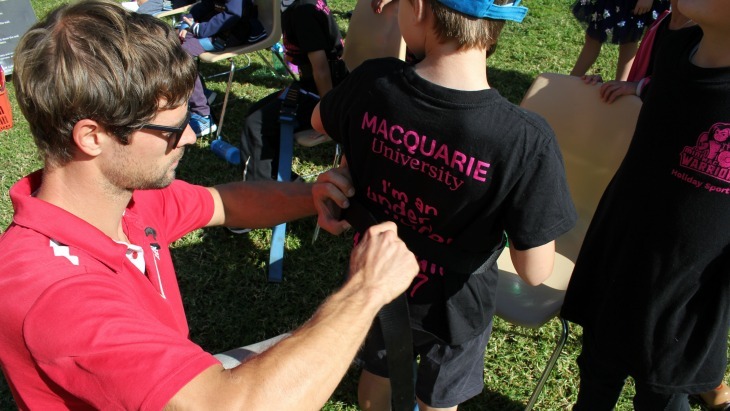 The programs all ran relatively smoothly with the only problem being checking student numbers at times. It would be great if the kids had a coloured sticker or something that told them which group they were in from the start of the day to avoid confusion about who should be where. This wasn't a problem on our first visit when only around 20 children attended but it would have made for a smoother second visit when about 40 children attended. Both days that I attended there were 3 instructors which meant essentially that one instructor was with each group with another moving between the groups to where they were needed most. A supervisor regularly dropped into oversee the program as well. I liked that all of the instructors had walkie-talkies and could communicate about group swaps and when extra staff were required.
The ellaslist Verdict
Overall, I was impressed with the program and my son has studied the timetable and wants to return next holidays for the rugby union and AFL.
What You Need To Know
When: School holidays Monday - Friday 8am - 5pm (5pm-6pm after care for an additional $15)
Location: Macquarie University Sport and Aquatic Centre
Getting there: For drop offs and pick ups, park in the N3 carpark. Take a ticket for your dash which gives you 2 hrs free parking.
Prices: Members $65, Non-members $82.50 per day
Click HERE to see their July school holiday program for 2017!
Reviews

Reviews get lonely too
Be awesome and write a review