Discover All Sorts Fitness & Wellbeing Centre in Alexandria
Tell them ellaslist sent you: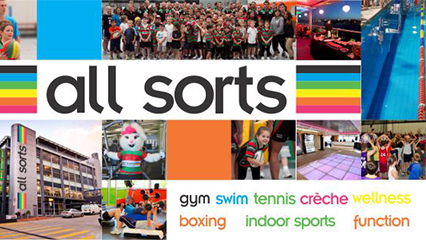 A Perfect Family Gym Experience

We recently sent ellaslist explorer, Amanda Lieber, and her family along to All Sorts to test out the facilities and enjoy a day of activities. Here's how they got on…
I left the house wearing my 'Active Wear' ready for our family adventure to All Sorts Fitness and Wellbeing Centre. It's easily spotted with its distinctive bright coloured signature signage. As we got out of the car, the motivating sound of a gym class in full swing echoed around the car park urging us in. Sandrine met us at the reception and was our go to person for the day; she did an exceptional job and made us feel really welcome.
The Crèche

After filling out the necessary paper work, we took our son into the well-equipped crèche which caters for children from 8 weeks – 12 years. You need to book 24 hours in advance for a 90 minute session. Our son goes to kindy part-time. I've never left him at a drop in centre, and thought we might have to change our 'active plan' but no, he went with barely a farewell kiss. It was a very inviting atmosphere.
Thumbs Up

He really enjoyed the crèche, he told me he had so much fun playing with the other children and the 'garb garb' aka garbage truck, 'It really worked, it lifted up, tipped and then went down again!' There was also a TV with Frozen being played (which could have assisted to the initial settling in factor). He would be more than happy to go again.
Great Kids' Activities

All Sorts offers lots of activities for children including weekly swimming and holiday swimming lessons, indoor sports, school holiday camps and Adele from Action Kids is opposite the centre. Bonus, if you have the 'Family Contract' the crèche and weekly swimming lessons-are included! Its a great perk for families with children.

Adults Getting Active

My partner went off to see the gym, whilst I was lead off to the Yoga room for an hour of stretching, breathing and relaxation. The instructor Brooke was incredibly thorough, asking if anyone had injuries and showing them modified movements before the class began. She spoke throughout the class guiding every step of the way. Explaining how to do each movement kept me in check and 'active' as I have a tendency to 'rest' more than 'push myself' whilst doing yoga in the living room (YouTube is clearly not as effective!).
I struggled into downward dog to the collective sounds of inhaling and exhaling of the other men and women in the class, the calming music soothed each aching stretch and encouraged me into the warrior pose, I found myself lying in the Shavasana (corpse pose) too soon. The class was over. As I was leaving Brooke encouraged me to walk if I felt stiff and sore the next day. Was my beginner status that obvious?
One Of A Kind Gym

They have an incredibly well equipped gym floor with machines, some that I've never seen before. The owner Dave keeps up with trends from overseas and has the latest equipment; 'Woodway Machine' (like a tread mill but not electronic, by walking on it you set the pace and length of your step, a bit difficult at first), a 'Stair Machine' which looks like a set of rotating stairs!! (OUCH my thighs after less than a minute) and Jacobs Ladder (all I can say about this one is Google it!!). There is also a Group Fitness studio, Spin studio, Mind body studio, over 100 classes per week, boxing and some outdoor training areas.
A Tasty Breakfast

It's an Australian-owned and operated brewery that craft their own beer. In saying that, it's a great space to take children! There are both indoor and outdoor seating areas, the outdoor space is fantastic for little ones to run off some excess energy! I'd say a perfect place to go for breakfast or lunch.
They also make great coffee!! And their breakfasts are simply delicious. We opted for the poached eggs with some extras on the side, the eggs were cooked to perfection! My partner said the pulled pork just melted in his mouth. For the fussy young one they made a cheese on toast, followed by a babycino and a freckled biscuit with strawberry pieces in it, YUM! They have catchy names for the beers on their menu linking to the past, for example, 'The Hangman Pale Ale' and 'The Convict Lager.'
The staff are very friendly, ready for a chat and able tell you anything you would like to know about their products. They offer Brewery tours and tastings so you can sample what they have on tap. I will definitely be going back, especially with our next lot of international visitors as it's led by fifth and sixth generation convict descendants. They also have live music, DJs and specials.
They are open for breakfast from 7am-12pm and lunch and dinner from 12pm-9pm, 7 days a week. I recommend calling to make a booking before you go.

The Family Swim

We went for a swim in the 25m heated pool, the deepest part is 2.2m. We were given pool noodles and kick boards to play with. We had so much fun, towards the end of our session, our son gained so much confidence that he climbed down the stairs to stand on the floor of the pool and then pushed himself up to the surface like a rocket ship (something that freaked me out a bit, but papa encouraged!)
As with all public pools its shared with training lanes and swimming classes, but definitely not as noisy as other pools I have experienced. There are baby change tables in both the male and female change rooms and they have a change room with wheel chair/ pram accessibility.

Other Interesting Features:


Upstairs they have a roof top tennis court (needs to be booked)


Their function centre can be hired out to host any party (pool included)


A small sauna and spa pool, both hot and cold (for recovery). I managed to get my big toe into the cold water. Not sure how people submerge themselves brrrrrr.


My highlight was the unusual change room situated outside the sauna, it's an old telephone box, I had to step inside to unleash my inner super hero.


You use your thumb print to get in, no card or key that you can lose!
What You Need To Know
They really care about their members as individuals, when you join you follow a '5 Step Member Plan' all free and inclusive.
You get a Fit3D scan, they measure your body mass, fat, radius of every inch of you and send it to you via email (eeeesh, a gruesome sight! Yet weirdly motivating!!). They can even print it for you with a 3D printer creating your own little figurine, which you can have on your desk (I guess).
You get a call after 6 weeks for a reassessment and to see how you are doing.
There is always a staff member you can approach to ask for assistance (I didn't feel at all intimidated, as I do at my 'local' gym.

Things We Took Away


My partner must have said about 10 times 'This gym is so well equipped from basic equipment to more extensive advanced stuff!'


All the staff are incredibly friendly, approachable and down to earth, not at all pretentious


Its open 24/7 no excuse for not exercising!
Places that are really close by:


The Grounds of Alexandria


SkyZone: our next adventure awaits!


Attractivity – indoor entertainment centre



Parking
There is undercover parking available, on the weekend there are loads of parking spaces in the outdoor parking lot (first 2 hours are free, thereafter $3 per hour). During the week keep an eye out for reserved space as it's situated in Sydney Corporate Park