A guide to taking kids to the MCA's Light Show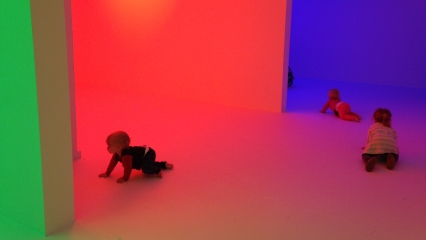 By: Lisa Wolff, ellaslist
We all need a bit of light in our lives
The Light Show has recently opened at the Museum of Contemporary Art in the Rocks. We took along our brood (a three year old and one year old twins) to test out whether the exhibition is child-friendly. Here is all you need to know about taking your kids to the show.
What is the Light Show
Light Show is a dazzling new exhibition at the MCA which features 17 world-renowned artists having fun with light. The show spotlights sculptures and installations which manipulate light in exciting ways. The show was a sell-out success at the Hayward Gallery in London and now Sydneysiders can experience this illuminating spectacle.
So, is the show kid-friendly?
Yes, definitely. But chasing after a triplet of toddlers doesn't result in leisurely wandering through the exhibition. Most young families, had their young ones in prams – a much more sensible idea – and would mean a more relaxed viewing of the enlightening artworks.
I think though that kids from primary school age and older would appreciate the artworks more than the littlies. Older kids also don't have this overwhelming instinct to touch, which often doesn't go down well in an art exhibition.
The MCA has developed the Light Lab specifically for kids. So I would recommend making this your first pit stop, let the young ones have their play and then head to the Light Show for more grown-up illuminations.
What we loved about Light Lab
Light Lab is a wonderful FREE family space which features super-cool light-inspired activities. Our kids loved sitting at the tables and drawing with the neon textas producing glowing lumo magic. They had fun playing with the assortment of different objects, such as slinkies, cups and pegs which all glowed fluorescent under the UV light.
Their favourite hang-out was the studio, which features a Kinect device, which tracks movements and then projects them on the screen as blurs of colours. It was hilarious to watch both young and old leaping up, arms flapping and feet dancing to create the coloured shadows on the wall. The floors are lined with pillows and beanbags so parents can relax while the kids experiment.
Keep in mind that you can't take photos in the Light Show but you can snap away freely in Light Lab.
What were the highlights of the Light Show
Our top five exhibits were:
1) Carlos Cruez Diaz – Chromosaturation
This featured three coloured chambers – one blue, one green and one red. It is designed to awaken our eyes to the essence of colour. I was just relieved that there was an installation where the kids could touch and crawl around without us getting into trouble. The three of them had a ball and were mesmerised by the coloured lights.
2) Leo Villareal – Cylinder II
This is made up of a mind-blowing 19,600 white LED lights which cascades down forming meteor showers, fireworks, snow and fireflies. It's one of those exhibits that will keep you entertained for ages. The kids couldn't resist reaching out to touch touch touch! (which understandably is a no-no) so we had to move on pretty swiftly.
3) David Batchelor – Magic Hour
This is a reflection of dusk in Las Vegas and is comprised of discarded commercial light boxes. It looks like a techno sculpture from the future and my wannabee-engineer son was fascinated. His little hands were twitching to pull at the matrix of chords and switches and he was most unhappy when we moved on.
4) Anthony McCall – You and I, Horizontal
This is a fully interactive installation where the artist uses computer technology, a projector and haze to make a light sculpture which can be walked into and through. I was intrigued and it's one that I would definitely return to without the kids. The little ones were a bit disturbed by the darkness and it was too dangerous to set them free on the ground.
5) Cerith Whyn Evans – S=U=P=E=R=S=T=R=U=C=T=U=R=E
This features three spectacular columns of lights which are supposed to represent the suspension between heaven and earth. The kids were drawn to the columns like moths to flame and sat and stared at the waterfall of lights for ages. Inevitable they reached out to touch and we got the expected disapproving looks from the watchful staff. Right, time to move on…
What would we give a skip?
As we were walking down the passage we noticed a long queue. Of course, we had to join it. The line was for James Turrell's Wedgework V which only allows for a handful of people to view it at a time. We waited over 20 minutes and finally got to walk through a darkened corridor to an orange glow. Apparently the longer you stare the more you see but the kids were about to launch a mutiny from all that waiting so we hurried out prematurely. I think it's one of those ones that I would return to when I'm flying solo.
How do we get there?
We made a day of it and took a ferry to circular quay and then walked the 5 minutes to the MCA. It's a fabulous way of getting there especially on Family Funday Sunday when public transport is so cheap.
You could also drive into the city and park nearby or take a bus or train.
How much does the Light Show cost?
Light Lab offers free entry.
The prices for the Light Show are:
$20 adult
$15 concession
$50 family (2 adults + up to 3 children)
$10 youth (13-17 years)
Children under 12 are FREE, but must have a CHILD ticket for entry
When is The Light Show open?
The Light Show will be on exhibition at the MCA until Sunday, 5 July 2015
Fri-Wed 10am-5pm; Thu 10am-9pm;
During Vivid Sydney (22 May – 8 Jun) daily 10am-9pm
Light Lab is open until Sunday 5 July
Weekends: 10.30am–4pm
Evenings during Vivid Sydney (22 May – 8 Jun): 5–9pm
For further information and to book tickets, visit the MCA website.