A Frozen Fantasy Comes True at The Langham Sydney
Preschoolers
Family
Kids
Mums & Bubs
Parents Only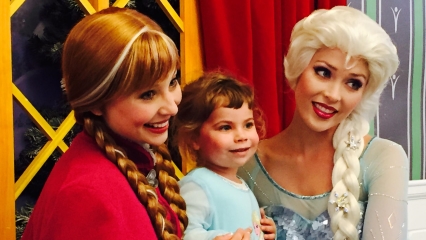 By: Lisa Wolff, ellaslist
Wow, is that The Langham, Sydney, or has Arendelle (that's the kingdom from the movie Frozen) landed on the place where this luxurious hotel once was? The plush hotel foyer was transformed into a gathering of little blue-frocked Elsa's, a few Anna's and even a cute-as-a-snowman Olaf. There was an excited buzz in the air as the mini-Frozen fans waited to be invited into the hallowed home of their ice-blasting heroine.
Preparing to meet Elsa
It was finally the day of our 'Frozen' Winter High Tea at The Langham, Sydney. Gabi had been preparing for her meeting with Elsa for weeks. There was a new dress, a long plait and many rehearsals of what she would say to the Frozen Queen.
One of the function rooms at The Langham had been decked out with tables adorned with the finest china (amazingly, nothing was broken), a jar of coloured pencils and an Elsa paper crown to colour in and create. There were two large screens showing Frozen music video clips on repeat.
Hot Drinks and Bubbles


Gabi got to work on her craft while sipping on a glass of bright blue lemonade. The adults got a choice of tea, coffee and hot chocolate. Yvette (who joined our table with her gorgeous daughter Poppy), felt that such a momentous occasion deserved some bubbles so we made a special order for a glass of champagne for the grown-ups.
Our toddlers joined a few of the other little Frozen fans on the stage as they danced to "Let it Go". But they hurried back to the table as soon as the food arrived.
The high-tea came as two tall three-tiered stands – one for the little kids and the other for the bigger ones.
Frozen treats for the kids


The kid's tea was a decadent collection of cupcakes with a blue icing tower, popcorn, magical fairy bread, chocolate sandwiches (and some healthy ones too), Frozen rocky road, an olaf cookie, icicle topped macarons and chocolate mousse tartlets. Gabi's eyes were wide with wonder and glee that these yummy treats were hers to eat.
Frozen feast for the grown-ups
I couldn't help feeling as excited as Gabi as I perused the choice on our high-tea stand. There were four scones on the bottom tier complete with pots of cream and strawberry jam. The scones were warm and fluffy and topped with a sugar crunch- probably the best I have ever tasted. The middle section offered a variety of savoury snacks – mini-burgers, sandwiches, salmon roll-ups, a pumpkin and pepita tartlet and a crab ice-cream (you'll have to try that one for yourself). The top-tier was all the sweet stuff with spongy, creamy macarons, berry tart and opera cake.
The Memorable meeting with Frozen Royalty
But when the main doors opened and the 'real' Elsa and Anna glided into the room, all food was instantly forgotten. I think every guest in that room was star-struck as the Frozen royalty stood on the stage and welcomed us. These weren't cheapie look-a-like entertainers. They were the actual Elsa and Anna characters all the way from Disneyland, California. There were even official-looking people with Disneyland name-tags – my guess, they were Elsa and Anna's security guards.


Each table had a chance to go into the drawing room and have a photo with the two famous sisters. Gabi couldn't wait any longer. She bolted up to Elsa and said to her what she had been practising for so long – "Hi Elsa, I'm Elsa too". The Queen and Princess knelt down and had a little chat and Gabi was in Frozen paradise. We then had a few minutes for lots of photos before going back to our table to finish off the last crumbs of our tea.
PRICELESS!
Our little girls had the best day. Not only did they get to munch on more delicious treats than any birthday party they had ever been too, but most importantly they got to meet Elsa and Anna. Sure, it's certainly not a cheap outing ($79 a person) but memories like these are priceless.





'Frozen' Winter High Tea for Kids at The Langham, Sydney is one for only one more day – Thursday 9 July. There are just a few spots left so be quick and book your face-to-face with Frozen Royalty. Call 02 9256 2222 to book or visit The Langham, Sydney for more information.
Reviews
I cant believe i missed this I wish i had known of this website sooner. What a beautiful way to get into the magic of frozen. My daughters have changed their names to anna and elsa and will ignore their birth names at the moment.Their brother is naughty hans! ,our dog is sven and rabbit is olaf. Daddy is christoff and mummy is the storyteller. My youngest will be 3 august 4th and am in the middle of collecting ideas and party pieces to give her a very special day. Might i add she loves to sing and dance to all the songs in the movie and she even tries singing the first song when men are cutting the ice which is very cute to listen too. dress up is just everyday so i may need to add some more outfits to the collection. Anyway she keeps telling me Anna coming Party? (Is Anna coming to my party).who knows maybe!!!
My daughter will only wear frozen dresses, her hair must be Elsa hair, she sleeps with her clothes, even though her pjs are frozen. She sings let it go all day long, and it is the only topic of conversation. The movie is watched numerous times a day. She has even found it in other languages on you tube. My life has become completely Frozen. Please I need Elsa to help un freeze it. Then again meeting her could make Eva who might I add is 3 on Aug 15 even more obsessed.