A Box Full Of Deliciousness- We Put Hello Fresh To The Test
Preschoolers
Family
Kids
Mums & Bubs
Parents Only
Teens
Todders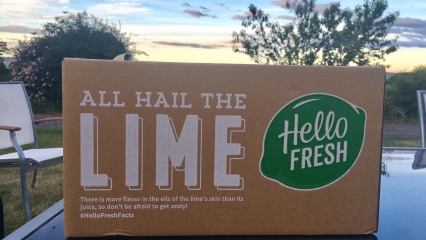 By: Edwina Carter, ellaslist explorer
CLICK HERE FOR AN EXCLUSIVE ELLASLIST OFFER! THE VERY BEST FAMILY BOX DEAL ON THE MARKET WILL BE APPLIED AUTOMATICALLY!
As a busy working Mum with 3 hungry children I was more than happy to be selected to trial the HELLO FRESH box this week!
Our family of 5 lives in the Southern Highlands of NSW and we love to cook healthy and delicious meals. I'm lucky my kids have all loved cooking from a young age so I was hoping this would be an opportunity for them to broaden their skills and hopefully take over in the kitchen department from me a dinner a week!

Delivery Day
I was so excited that someone would be planning the meals for our family. I've tried meal planning before and it just wasn't for me. I found that on nights we got back from soccer training at 6pm starving, I had inadvertently planned a roast dinner and we all ended up having baked beans! I was hoping this would
give me a fresh approach (and it did!)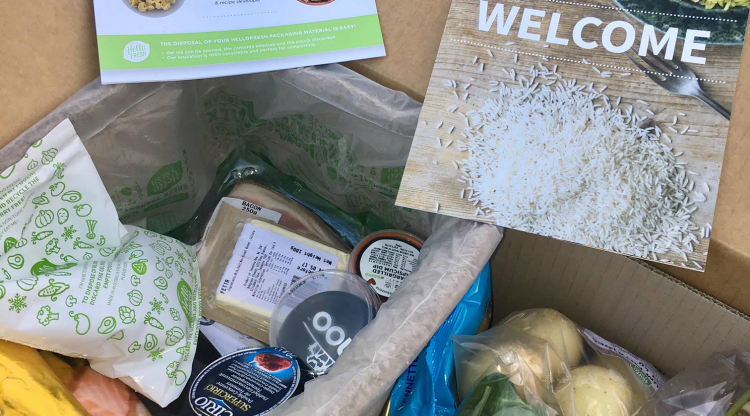 Stylish Packaging
The first thing that struck me was the stylish packaging. It was
eco-friendly,
with recycled bubble wrap, and
funky design.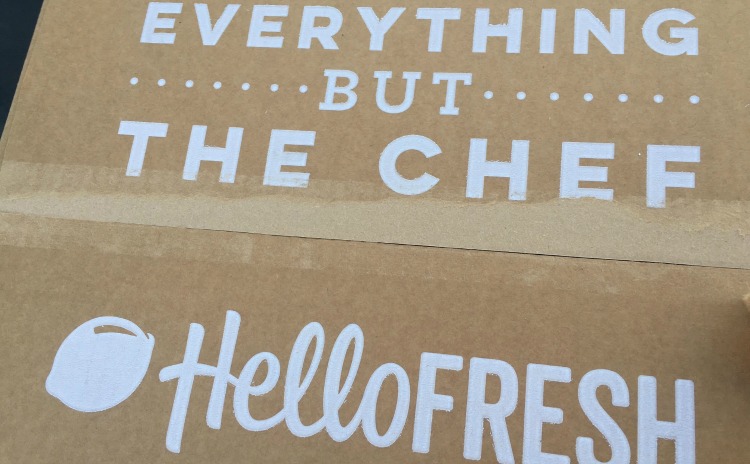 Top Quality Food
The single most surprising thing in this experiment was the
quality of the produce.
And that nearly all of it was Australian owned companies! Hooray! I was most excited to try the
Argyle Prestige Meats Minute Steaks
. They won Australian Farmer of the Year in 2013, and their meat is 100% grass fed and 100% hormone free – a big tick for me!
There was also
Lilydale Free Range chicken
,
Pyrmont Seafood Salmon fillets
,
Ashgrove Tasmanian Gourmet Feta
,
Pendle Cured Bacon
, and
Moo Greek style yoghurt
– what an assortment!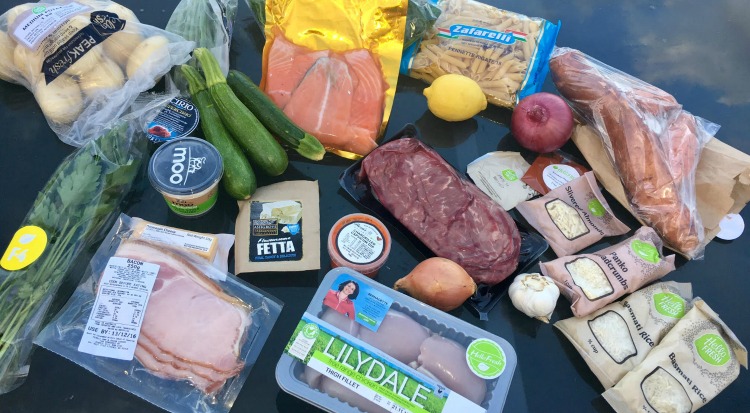 Easy To Navigate Recipes
Next up I had a look at the 4 recipes – they looked
delicious and varied,
and most importantly, like what we normally eat so I knew they'd be a hit with the kids and husband! They had a bright picture and ingredient list on one side, and the method overleaf.


Parmesan crusted salmon with sweet potato wedges and green beans


Butter chicken with basmati rice and slivered almonds


Beef skewers with Romesco potatoes and sautéed zucchini


Creamy Bacon pasta with wilted spinach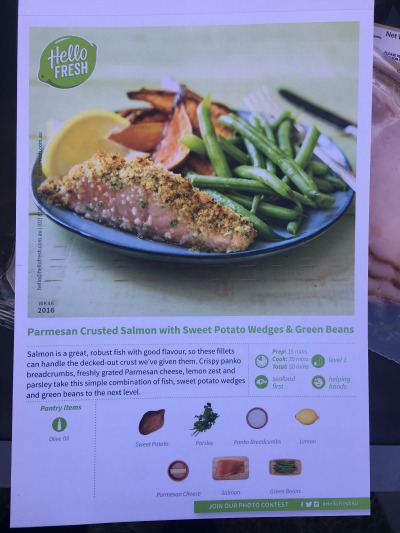 Moment Of Glory!
When my daughter aged 9, and son aged 8 saw the meal recipe cards, they said they'd be happy to cook a dinner each. I noticed on the bottom of each card, there was little symbols, one of which was "
HELPING
HANDS
"
which meant kids could assist.
Due to the age of my children, and a bit of experience in the kitchen, they each cooked an
ENTIRE
dinner themselves. My daughter chose the salmon and my son chose the pasta dish. I was doing a happy dance in the corner of the kitchen!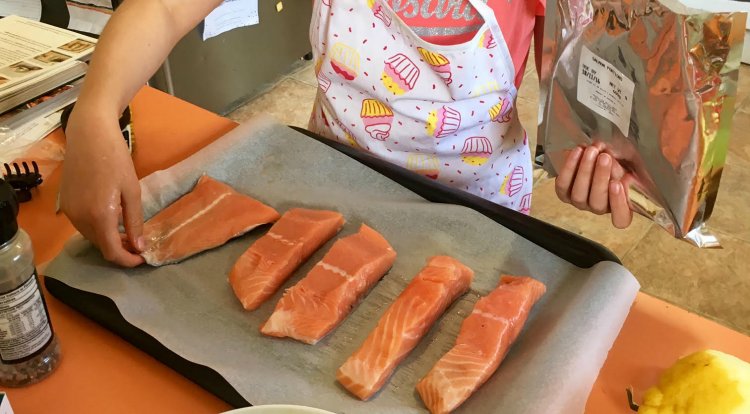 The recipe cards were super easy to follow. The cards contain all the info you'd need including: prep time, cook time, level of difficulty (1-3) and nutrition listing. There's even NUT FREE AND PALEO symbols so clearly you can cater for many dietary needs. I found it really helpful that the cards also had 'EAT ME FIRST' on the seafood dish, and 'EAT ME EARLY' on the chicken dish, to encourage freshness and hygiene. It also helped that there were images of each step for me and my children to follow.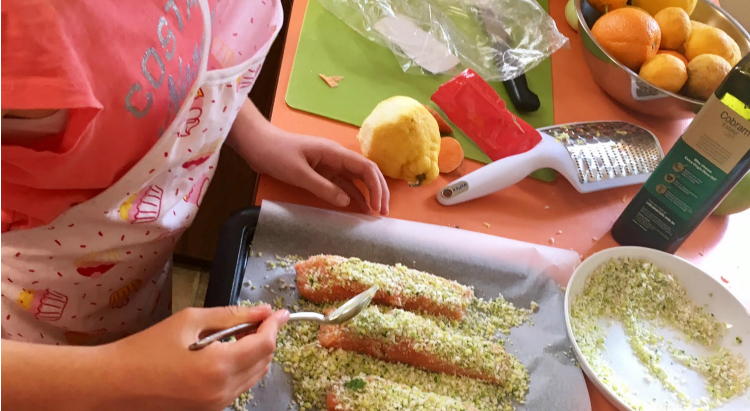 So he didn't miss out on the fun, my youngest child helped me plate up the beef skewer dish!
A Massive Family Hit
All four dinners were a massive hit!
The only slight negative was that coriander was missing from our box, which was needed for 2 recipes, and changed the flavour and appearance of the butter chicken meal. It would be a great idea if the box came with a tick off checklist of ingredients, so you could make sure it was all there, as I didn't notice we didn't have it until we went to make dinner.
Apart from this one negative, all the meals were easy to follow, deliciously tasty, and super fresh. I am a huge fan and will definitely order again for the convenience and inspiration!
Our Top Tips


The box was for 2 adults and 2 children. Although we have 3 children, this worked fine, as my oldest child is vegetarian so I always do a big plate of extra veggies with every meal


Portions are generous!


I

LOVED

the kids being involved in the cooking process. They were so proud and it made my night so much easier!


Hello Fresh's website shows so many different options to cater for your family. From vegetarian, to paleo, small families, big families. I was really impressed with all the choice! I will be trying the Veggie Box next!


For the quality of the food and the ease of use I would say it's good value for money. On their site (or app) you can choose 2-4 people, 3-5 meals, and prices range from $64-$189. The fact that it's seasonal produce and no wastage is a big plus too!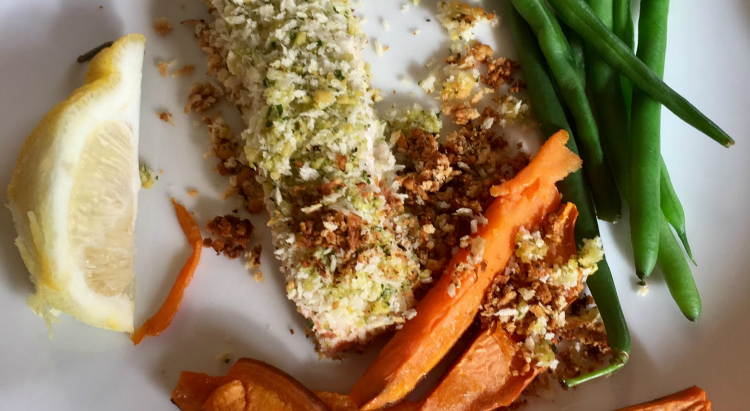 ellaslist readers have a special VIP offer which gives you $30 off your first TWO boxes (family boxes only). This is the BEST offer in the market right now!! (Discount will be applied automatically)