6 Of The Best Things To Do In London With Preschoolers
Preschoolers
Family
Kids
Teens
By: Stephanie Boyle, ellaslist explorer
When I lived in London as an student many years ago, I used to imagine a time when I would travel back there, children in tow to show them what thrilled me.
London is the starring role in so many works of children's literature, has fairytale qualities and an overwhelming number of child-friendly attractions. There really is so much to do with the family, both indoors and out. I was really excited to share London with my 3.5 year old on a recent holiday to the UK.
1. London Transport Museum

Top of my list is the wonderful London Transport Museum. Do I dare admit that we returned here on four separate occasions throughout our trip? A single entrance fee for becomes an annual pass.
It's centrally location in Covent Garden means you can pop in to escape the rain or cold for a bit as we did. At the entrance, children are given a stamp card that leads them on a treasure hunt. This was a terrific way to get my 3yo engaged.
The museum contains some amazing exhibits (the 100 year old horse-drawn omnibuses were a particular highlight) and information about the history of transportation and how London grew into a modern metropolis.
The two children's play spaces are terrific. Children can pretend to be bus or underground drivers, conductors, passengers and lost property officers. There is also one of best mothers' rooms I came across, second only to Harrods (that one had a nurse/cleaner/mother's helper to assist with your every need and designer nursing rockers!)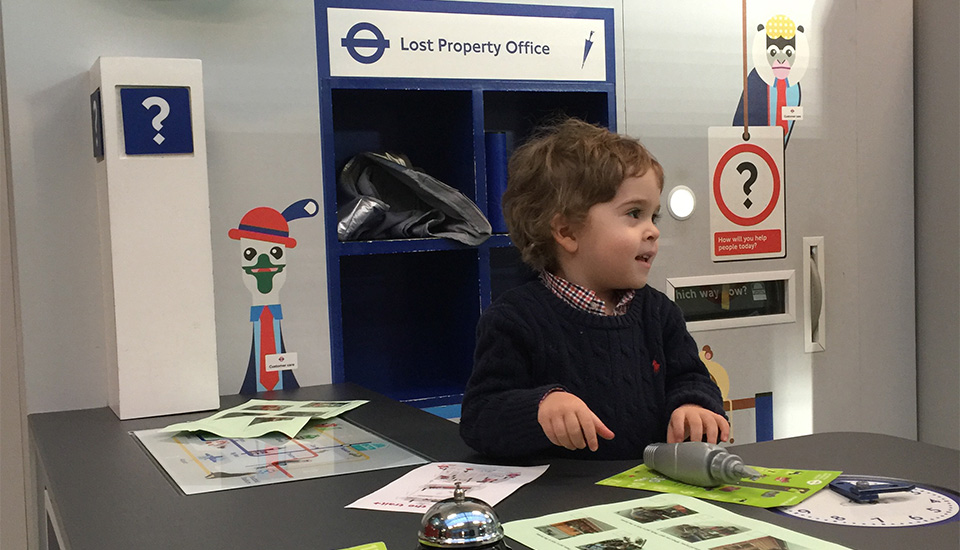 If like me, you secretly judge a museum on its gift store, you will not be disappointed here. The souvenirs are great quality, educational and varied in pricing from extremely affordable to the more expensive collectors' items. My boys are still happily playing with everything I bought them. Oh, and if you want to check out their online shop, they ship larger items (including a city of London train playset) to Australia for a very reasonable price!
2. Maritime Museum, Greenwich

Greenwich, with its quaint, village-like atmosphere, waterside location and open green spaces, is a place you can easily fill a day or more with children. You can ride the driverless Docklands Light Rail there (a huge hit!), clamber aboard the historic tea clipper, Cutty Sark, climb the hill and visit the Royal Observatory for an incredible view of London or stand on the prime meridian.
Best of all for the little ones is the Maritime Museum. On the ground floor is a fabulous play space where children can work as a fish monger, imagine themselves as a deck hand, shovel coal in a boiler, attempt to balance the freight on a container ship, try their hand at fishing or prepare food in a ships galley. My little boy and his friend spent ages playing beautifully together here, completely engrossed in their imaginary play.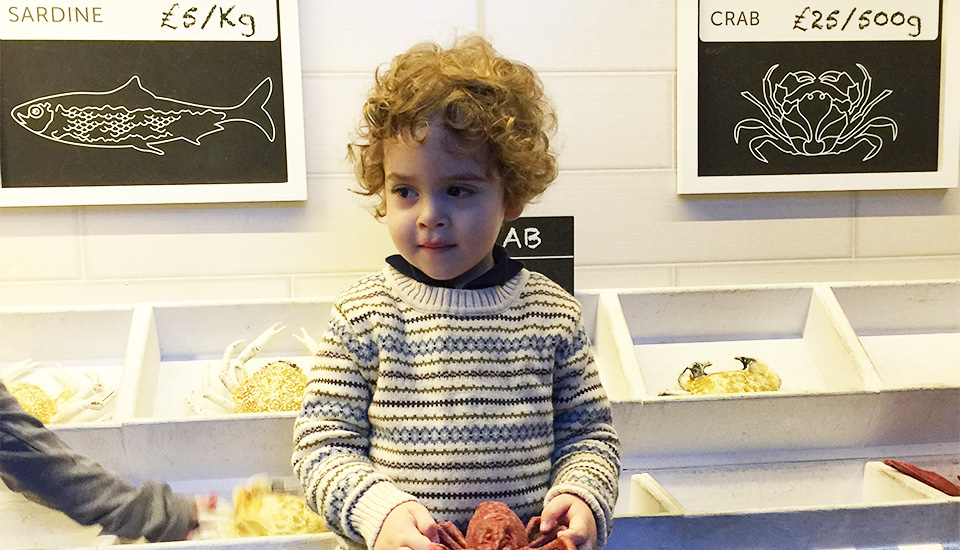 There are a number of large exhibits throughout the museum including an amazingly beautiful Royal Barge and an incredible collection of ships figureheads. The enormous world map spread across the second floor, just outside the cafe was the perfect space for little ones to burn off energy. My son really enjoyed reenacting our flight from Sydney to London, spotting where various friends and relatives lived and pointing out all of the countries he knows.
3. Kensington: The Museum Precinct

No visit to London would be complete without a trip to the iconic Natural History Museum, recently featured in the Paddington Bear movie. Situated in Kensington, it's part of a the museum precinct containing the Science Museum and the Victoria and Albert Museum, all of which are worth a visit.
Sadly, some of the Natural History Museum was looking a little shabby during our visit. Many of the displays were old fashioned and not really designed to engage today's generation of children who, thanks to technology, expect a little more. That being said, offers a lot of charm. My son really enjoyed exploring the amazing building and talking to staff about the fossils they brought out for discussion. We also enjoyed spotting the various items of flora and fauna in the decorative features of the building – it makes a fantastic treasure hunt. The newer section of the museum, where you can travel up a very high escalator into the very centre of the earth to learn about earthquakes, volcanic action and other things effecting the earths crust, was wonderful.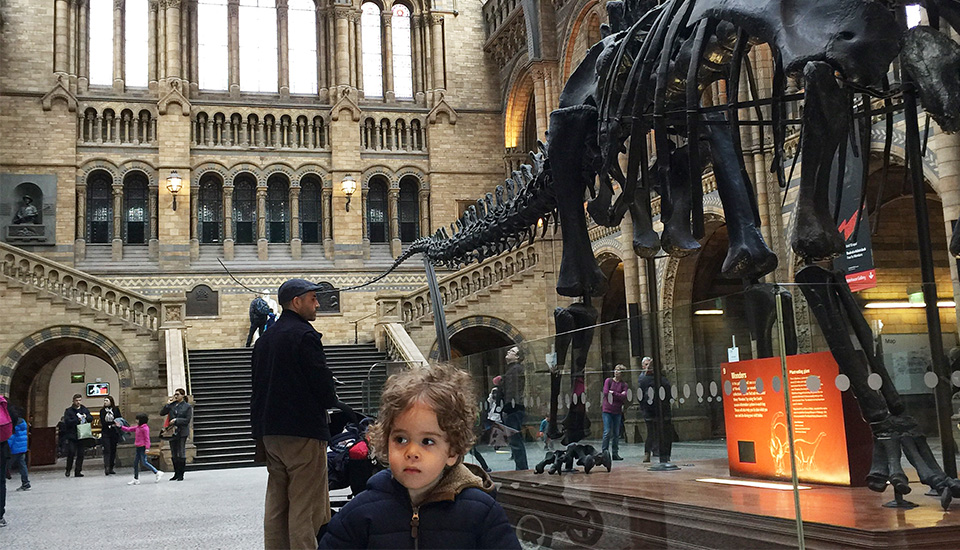 The neighbouring Science Museum is bursting at the seams with modern, gripping exhibits that will keep your budding scientists thoroughly preoccupied. There is a great mix of modern and historic and many of the exhibits are very interactive. You can create your own underground network or environmentally-friendly city. The cafe in this museum deserves a special mention for its child-friendly meals. It is worth purchasing a children's guide book in both the Natural History and the Science Museum. They make a great souvenir and provide ample material for discussion once you've retired to your hotel for the evening.
The Victoria and Albert Museum is not especially child friendly – it's partner museum, the Museum of Childhood is designed for that purpose. However, it's a wonderful place to walk around. My poor children got dragged through here five times (it's one of my favourite places in the world) but the complaints didn't really begin until the final trip! There are so many interesting household items and object d'art in this beautiful building.
4. Museum of London

The history of London is beautifully presented in the Museum of London. The layout of the museum takes you on a chronological journey beginning in Roman times and ending in the present. Artifacts have been carefully chosen to reflect these various time periods and to give visitors a true sense of what life was like in these eras.
Many of the exhibits are interactive and my 3yo particularly enjoyed the Georgian pleasure garden, the Victorian shops and a transportation display where he could move buses and trains around the city. The Museum also runs regular programs for children. While we were there my son was able to enjoy a story time and a craft activity. It's an easy place to spend a great deal of time in.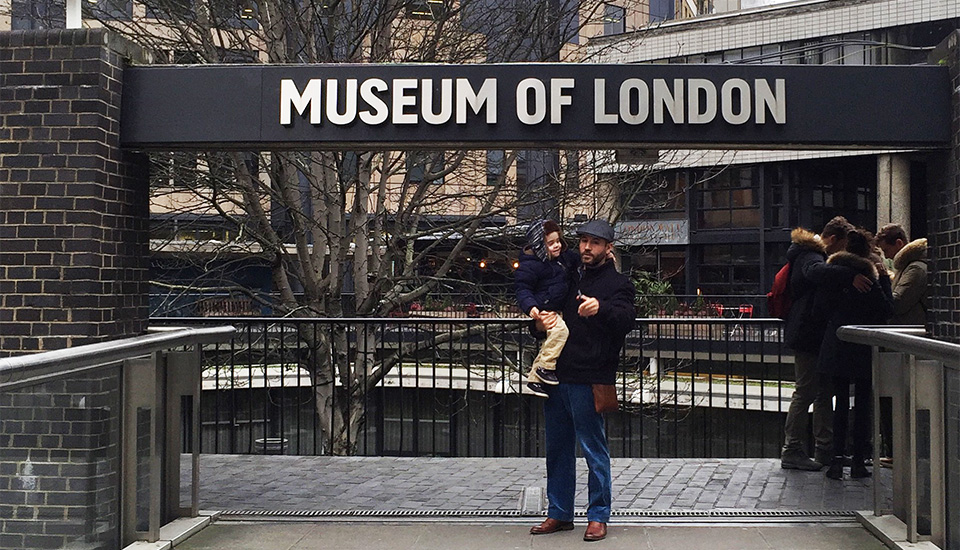 5. Literary London

So many wonderful works of children's literature are set in London. Visiting some of the places featured in their favourite books and movies is a wonderful way to sightsee. Before we departed for London, my son and I worked our way through several Paddington Bear books and the recent movie, Bedknobs and Broomsticks, Mary Poppins, 101 Dalmatians, the BFG, the Railway Children, the Wombles, Sherlock Holmes (albeit a very abridged version!) and Peter Pan to name but a few.
While there, I drew his attention to various places and reminded him of the books we'd read together. At Paddington Station we visited the statue of Paddington Bear and the Paddington Bear shop where you can pick up a Paddington Bear trail walking map, leading you across London to places featured in the movie.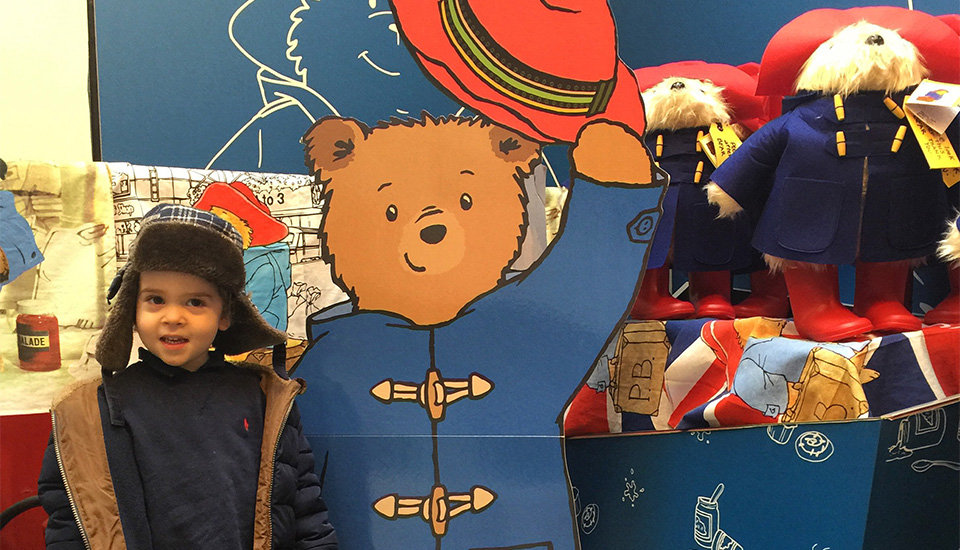 Portobello Road led to discussions of 'Bedknobs and Broomsticks' and a rendition of 'Portobello Road' on my part! St Paul's Cathedral was of course the scene of 'Feed the Birds' in Mary Poppins, Regents Park, the place where Perdita and Pongo met and frolicked in 101 Dalmatians, Buckingham Palace a reminder of the antics of the BFG and Sophie and 221B Baker Street famous for its association with the world's most renowned (fictional) detective. The Princess Diana Memorial Playground in Kensington Gardens is a wonderful place to reenact scenes from Peter Pan with its pirate ship and lost boys teepees. The statue of Peter Pan in Hyde Park is also a short walk away. My son still speaks fondly of these books and films and I know that our trip has cemented them deep within his memory.
6. See A Show!

Since London is famous for its theatre, pantomimes, musicals and ballet, and my son loves a show, we went to several! I booked online before we left but with hindsight, it's best to wait until you get there owing to the huge number of discount ticket booths that offer significant savings on seats.
Our first performance was The Railway Children. It was absolutely captivating. A purpose-built, moving stage on a disused railway line meant that an authentic steam engine could become part of the action.
We were lucky that Cinderella, my son's favourite fairytale, was playing at Richmond Theatre, one of the most famous pantomime venues. My son had a ball at this very different type of performance and loved the comedic elements. He kept grinning cheekily at me throughout as he yelled out 'behind you!' or 'oh no he didn't!' with the rest of the audience.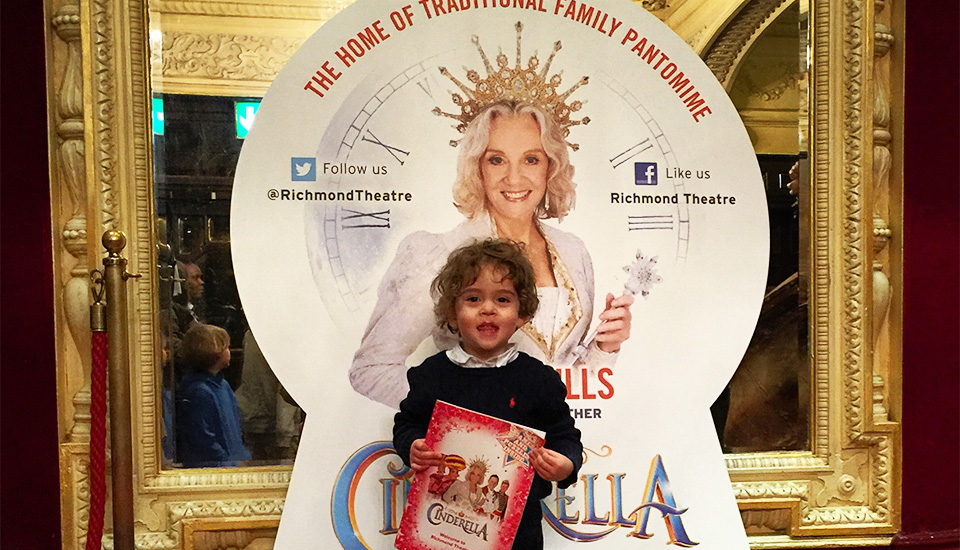 Being Christmas, the English National Ballet was also performing The Nutcracker which is a fabulous introductory ballet for children. Our front row seats also gave my son a view into the orchestra pit and I think he enjoyed this almost as much as the performance on stage.
Our final theatre experience was the musical of Charlie and the Chocolate Factory which was amazing. The sets, the costumes and the original music was in keeping with the whimsical nature of Roald Dahl's beautiful novel.
I found that by booking a show in the middle of the day or in the early evening, we were still able to fit in a few other activities in the morning or on either side. It was a lovely way to relax after so much time spent pounding the pavement.
*******

Confining my list to just six suggestions was an almost impossible task. Places like the British Museum, the Wallace Collection, the Tower of London, Hyde Park, and Hampton Court Palace are also remarkable, fabulous places for children and should not be missed. I can't wait to return someday soon! I hope that some of you also get the opportunity to visit this wonderful city and experience its magic through the eyes of your children. It is truly a trip of a lifetime!
For more inspiration on what to do in London with young kids, read Lenore's review of unique places to take the kids in London.
Stephanie Boyle is currently a stay at home mother with two gorgeous children.
Prior to becoming a mum she trained as a lawyer and worked in various Government positions. She is currently completing a Masters of Teaching. Stephanie and her Algerian husband Kamel have two sons, Ayman (3 years old) and Younes (3 months) and they are doing their best to raise their sons as tri-lingual global citizens. When Ayman arrived three years ago, it became immediately apparent to Stephanie that neither of them were homebodies and so they set off on what would become three glorious years (and counting!) of adventure and excitement throughout Sydney and its surrounds. Stephanie believes that childhood should be pure magic and she is on a continual mission to make this the case for her sons. She loves discovering new places and activities, throwing amazing parties and running a bookclub for her boys and their little friends. In addition to her reports for ellaslist, you can also follow Stephanie and her boys on
Instagram @moukinina
Reviews
Great article v helpful we're off to London soon. Thanks!