6 of the Best Playgrounds with Shade Sails in Melbourne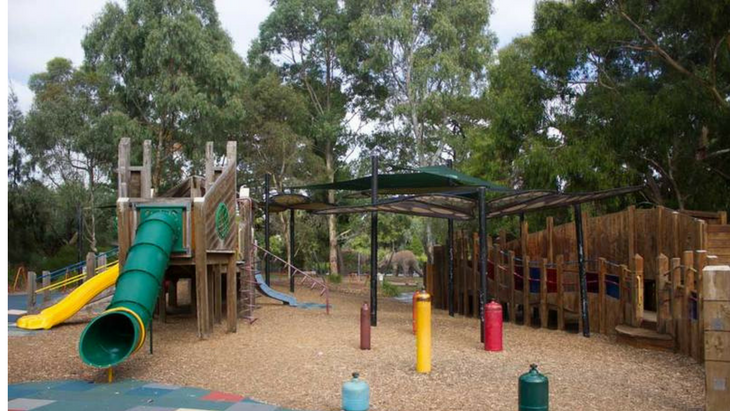 The sun can be absolutely scorching in a Melbourne summer - but when all you want to do is head outside and enjoy the weather, unshaded playgrounds can be a real problem.
It can seem like finding a shaded playground is about as easy as finding a carpark at the shops over Christmas, but fear not - we've got your back!
Head out to these six great playgrounds kitted out with shade sails and make the most of a sunny Melbourne day.
1. Hay's Paddock Playground
Hay's Paddock Playground is consistently one of our favourite playgrounds in general - the wide variety of play equipment to suit all ages, its peaceful nature vibe, it's security - but the shade sail over the very popular sandpit makes it one of our favourite shaded playgrounds too. There are also plenty of trees about, and much of the cubby houses and climbing equipment is roofed also.
Find it: Leason St, Kew East
2. Hansen Reserve
The smaller of the two wooden structures at this great park is covered, with plenty to keep kids occupied. They've got two slides, a cute shop, steering wheel, ladders, distortion mirror and more. The larger structure has a smaller roof, and there is a ton of bright green grass to run around on nearby. A fantastic playground for all ages, and a wonderful destination park if you want to spend the day.
Find it: Roberts St, Footscray West
3. Plum Garland Memorial Playground
Plum Garden is often the first pick for people seeking shaded playgrounds, and with good reason! It's an amazing fully-fenced place for nature-based play, with tons of great equipment like sandpits, swings (including birds nest swing), climbing frames, slides, tunnels, water play area and spinning carousel. And best of all are the huge shade sails making quite a bit of the park protected from the sun.
Find it: 97 Beaconsfield Parade, Albert Park
4. Woodlands Park
Woodlands Park is huge, and the lovely playground set near the duck pond is a popular spot for kids and families. Under the shade sail here is a cute boat-shaped structure (probably best for younger kids), complete with ladders, steps and slides, an abacus and other play apparatus. Bring your lunch (there are BBQs on site also) and set up camp for a lazy afternoon. Don't forget the footy to kick around!
Find it: Cnr Woodlands Street and Carnarvon Road, Essendon
5. Point Ormond Playground
Huge shade sails protect the equipment at this fun nautical-themed playground for kids. Actually, the adults can definitely get involved here with the giant family-sized see-saw, but the equipment (boats, climbing frames, scramble walls, spinners) are especially good for smaller kids.
Find it: Point Ormond Avenue, Elwood
6. ArtPlay Playground
The ArtPlay Playground is a popular spot for folks visiting the CBD, and the excellent play equipment suits all ages. We love the bright colours as well as the natural aspects, and all kids love the shady slides. It's a lovely park to chill out in between cultural city pursuits.
Find it: Birrarung Marr, behind Federation Square
Where do you like to take the kids when they need to play outdoors in a shady spot? We'd love to hear!