Six of the Best Fun Foodie Things to do With Kids for Good Food Month 2015
Preschoolers
Family
Kids
Teens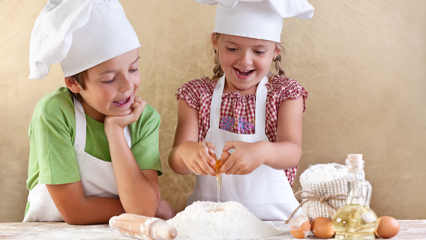 Good Food Month is upon us! Fortunately, it isn't just the big kid foodies that get to feast in Australia's biggest food festival. There's plenty to gorge, learn and play for your little foodie too. Here are Six Delicious classes, workshops and a spooktacular event to round the month off.
1. Everyone loves Dumplings – East Ocean
Spend a fun afternoon making traditional Chinese dumplings with your kids. The hands-on classes take you through two dumplings, which are then cooked and enjoyed alongside other dim sum dishes. For kids 5 years and older.
WHERE: 421–429 Sussex Street, Haymarket
WHEN: Oct 3; 04:00pm – 07:00pm
COST: $60 (2 adults, 1 child); $80 (2 adults, 2 children)
MORE INFO
2. Earn Your Tucker - Rouse Hill House and Farm

Visit historic Rouse Hill House and Farm this spring to feed the chickens, collect eggs, grind corn and churn butter. Learn what goes on in the farm buildings and around the grounds. Ages 5+.
WHERE: 356 Annangrove Road, Rouse Hill
WHEN: Oct 11; 11:00am – 01:00pm
COST: $17
MORE INFO
3. Aboutlife Kids Cooking Workshop with Brenda Janschek
Let Brenda Janschek teach your kids how to cook and discover the world of ingredients through fun games and special techniques. Featuring simple and nutritious recipes all the family can enjoy.
WHERE: 1 Kiaora Lane, Double Bay
WHEN: Oct 1; 05:00pm – 07:00pm
COST: $59
MORE INFO
4. The Long Lunch: Cooking, Creating & Sharing with Kids in the Kitchen – The Studio

No parents allowed as Rowie Dillon (Rowie's Cakes) and Saskia Beer (Saskia Beer's Farm Produce) guide the kids through a hands-on, fun, creative and oh-so-slightly wicked long lunch, where they decorate the table, make and bake pizzas, make salads, and bake and decorate cakes and treats to take home.
WHERE: Unit 2/85 Dunning Avenue (entry next to Koskela's garden), Rosebery
WHEN: Oct 4; 11:00am – 02:30pm
COST: $60
MORE INFO
5. Damper & Butter – Elizabeth Farm
Come to Elizabeth Farm, Australia's oldest farmstead, and learn to bake damper and churn butter in the original colonial kitchen. Ages 8–12.
WHERE: 70 Alice Street, Rosehill
WHEN: Oct 2; 11:30am – 01:30pm
COST: $25
MORE INFO
6. Hallowgreen – Green Square Markets, Joynton Park

Celebrate Halloween at the Green Square Markets. Dress up in a suitably Halloweeny costume, bring the kids and pets for the parade, play games and indulge in all things gory, delicious and much more.
WHERE: Joynton Park, Zetland (Cnr Gadigal & Victoria Park Parade), Zetland
WHEN: Oct 31; 10:00am – 03:00pm
COST: Meals from $5–$15
MORE INFO
Visit the Good Food Month website for more info and to book your spot.