10 Things You Didn't Know About Giggle & Hoot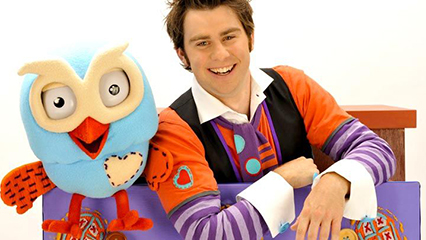 Their infectious enthusiasm and eternal happy demeanour have our kids glued to the screen. Jimmy Giggle and his best friend, Hoot, are a daily ABC Kids fix for so many Aussie kids. Their singing, dress up and games inject fun into our kids' mornings, afternoons and evenings.
As they prepare to bring the 'Jimmy Giggle's Christmas Party' show to Sydney in December, ellaslist seized the opportunity to ask Jimmy some inside info about Giggle & Hoot.
Read on to discover 10 things you didn't know about Giggle & Hoot!
1. ellaslist:What things will Giggle & Hoot be planning to do around Sydney while you're on tour here?
Jimmy: Cruising around the harbour in the Gigglemobile, flying through the sky and zooming under the water!! Hoot and I might go and see an opera if we have the time!
2. ellaslist: Where and how will Giggle and Hoot be celebrating Christmas this year?
Jimmy: We will be in the Giggle and Hoot house opening lots and lots of presents! I've been busy wrapping presents with the Present Wrapper 6000!
3. ellaslist: Who gets more fan mail, Hoot or Hootabelle…or is it Jimmy?
Jimmy: Hoot, definitely Hoot! We get lots and lots of pictures for the Giggle Gallery and most of them are of Hoot!! He loves all the blue!
4. ellaslist: A little birdie (and it wasn't Hoot!) told us about Jimmy's umbrella phobia. Is Hoot scared of anything?
Jimmy: He is afraid of cats, but I am slowly relieving him of that fear by watching cat videos in the Internet.
5. ellaslist: We know how much Giggle & Hoot love music. What are their favourite songs right now?
Jimmy: Giggle Fangs new song is awesome! Hoot loves On The Night Watch and Hootabelle's favourite is Twinklify!!
6. ellaslist: We've noticed how Hoot and Hootabelle's relationship is blossoming as they fly around the land of Giggle and Hoot – any chance they might get together and produce some cute Hootabubs for us?
Jimmy: They are just 'friends' but we all know what that means right!! Hahaha!!
7. ellaslist: We have heard that Hootabelle's favourite dessert is worm flavoured milkshakes. What are Giggle and Hoot's favourite foods?
Jimmy: Hoot loves birdseed and owl snacks and I love banana milkshakes! But most of all we all love DONUTS!!!!
8. ellaslist: We've seen a pic or two of Giggle Jnr (aka Lenny) and we think he is adorable! How has Giggle changed since becoming a dad?
Jimmy: I wouldn't say too much has changed with my performance on the TV show! However, I have been listening to kids music over and over and over…. I understand now….. And I'm sorry!! Hahaha
9. ellaslist: What's the best advice you have for new dads?
Jimmy: Go with the flow, help as much as you can and have fun! It's a wild ride but the best thing ever!
10. ellaslist: Can you share your favourite bit of your Christmas Party Show?
Jimmy: We have some very cheeky elves joining us on the tour along with Ali McGregor, Hoot and Hootabelle, and keep your eyes peeled for Santas arrival!! It's going to be heaps of fun!
Find out more about Jimmy Giggle's Christmas Party show appearing at Chatswood Concourse on 19 December and Enmore Theatre, Sydney on 20 December. Pre-book your tickets online now.