TOP FREE Water Play Parks for Kids in Sydney
We are so lucky to be blessed with so much warm weather, and so many fun ways to cool off! Apart from our beautiful beaches, there are fantastic local playgrounds with water features dotted around Sydney for more FREE fun in the sun.
Here are our TOP picks of fountains, splash pools and fun sprinklers your kids will love:
1. The Playground, Darling Quarter


Darling Quarter, Darling Harbour
For adventure in and out of the water this huge play area is an absolute must! Surrounded by the hustle and bustle of Darling Harbour, this impressive play space is a kids oasis, right in the city. The playground is a wonderland of balance ropes, giant swings, a jumbo ring, a big slide and slide hill, a flying fox, an octonet and more! After tackling that terrain the kids will need to cool down, and the 'Water Works' is the place to do it. It's a masterful maze of waterways where kids control the flow, via water switches,water gates, a water wheel and an Archimedes water screw! Plus, it has pump stations, water squirts, and sand pits with diggers.
Source: Aussie Blew
2. Blaxland Riverside Park

Jamieson St, Sydney Olympic Park
This unique play space provides a diverse range of activities and challenges for kids of all ages and abilities – and it's home to the largest outdoor water play facility in NSW. Plus there's a double flying fox, mega-swing, tunnel slides, scramble wall, spinning play disk, Viking swing, and a multi-level tree house, all spread over 3 hectares along the Parramatta River. With it's amazing architectural equipment and bright, cheerful colours, this spectacular waterside park is a world away from your average playground. We checked out the epic playground at Blaxland and it sure does have the WOW factor.
3. Pirrama Park

Pirrama Rd, Pyrmont
If you've got playground fatigue and need a change of scenery, this harbourside parkland is the place for you! The award-winning, multi-million dollar creation is one of the newest and most thoughtfully designed parks in Sydney. Kids immerse themselves in the play space while parents soak up the surroundings! The unique adventure playground has fun water play features like sprinklers and fountains, which are a hit on a hot summer's day.
There is also a big sandpit, climbing structures, slippery dips, swings and musical play equipment to keep little adventurers entertained. There's plenty of room to ride a bike, kick a ball or have a picnic!
Source: Concrete By Design
4. Waterplay Park, Steel Park

Illawarra Rd, Marrickville
Steel Park has a lovely playground with equipment to suit both the littlies and older children, surrounded by plenty of space, lots of grass , poplar trees providing great shade and a great view of the Cooks River. However, its Waterplay Park is still the main drawcard. The interesting series of water features include interactive fountains, sprinklers and misty spray elements, designed to encapsulate the total water cycle and demonstrate an environmental process in action. It's safe, creative and lots of fun.
Source: Bump Into Mums
5.
 Putney Park

Pellisier Road, Putney
Right on the waterfront, this beautiful park is an expanse of lush lawn and natural wonder. The fantastic main playground boasts a huge tube slippery dip, large climbing net, lookout tower and combination equipment. Plus, it is heaven on a hot day with its large water feature – two shaded paddling pools linked by a little stream for hours of splashing fun. For the older kids, there's another playground near the river with a huge spider rope climbing frame suspended over a big sandpit. There is also a smaller playground at the southern end of the park with equipment suitable for young children.
Source: Hello Sydney Kids
6.
 Nurragingy Reserve Water Park

Wren picnic area, Knox Rd, Doonside
A short drive away from Wet'n'Wild, this water park at Nurragingy Reserve is a huge gem for Western Sydney kids. This recently installed free water park facility features a number of fountains, hoses and waterfalls to help you cool off while having fun in the picturesque Western Sydney Parklands. The bonus also comes with the huge playground alongside the water play area, with sandstone, jarrah logs, river stones, recycled timber sleepers and shipping ropes. Open every day through summer from 9am to 6.30pm.
Source: Daily Telegraph
7.
 James Ruse Reserve Water Playground

Corner of Hassall and Parkes St, Parramatta
Parramatta Council opened a brand new water play park at James Ruse Reserve in September 2014. This delightfully shaded water play area is suitable for both little and big kids. The water park runs from 9am to 7.30pm during summer, 10am-4pm during spring and autumn, closed during winter.
Source: Weekend Notes
8.
 Granville Water Park

Granville Park, Montrose Ave, Merrylands
This new sustainable splash park opened in April 2014 has an amazing array of fun water features which continuously collects and recycles its own water. The kids can splash about in the fountains, sprays and tipping buckets which dumps 1600 litres of water a minute! The splash park is open during summer, autumn and spring.
9.
 Cathy Freeman Park

Cathy Freeman Park, Australia Avenue, Sydney Olympic Park
Our favourite feature of this park is the gigantic Olympic Cauldron with cascading water which the kids will love splashing in. There is a large grassy area perfect for picnics. You also have your choice of playgrounds nearby along with a variety of cafes. There is also an outdoor chess board. In January, the whole family can enjoy free movies under the stars at Movies by the Boulevard.
Source: Sydney Olympic Park
10.
 Vera's Water Garden

Vera's Water Garden, The Entrance, Central Coast
OK, so this colourful water paradise, is not technically in Sydney, but we thought it was just so cool that it was worth including it (and making the trip from Sydney). This features a shallow wading pool and brightly painted water fountains for the children to splash about under and climb over. It's perfect for little ones. It has ample shaded seating for the parents to sit back and relax while the children play.
Source: Visit NSW
11.
 Blacktown Showground Precinct

Blacktown Showground Precinct, Francis Park
This fun waterplay zone features a sheltered area with varying sized water troughs, a hand wheel water pump, a concrete water maze and spurts and sprays coming from all over – just perfect for the kids (and adults) on a warm, sunny day. Open Summer: January – May and September to December. There is also a Junior Playground for 2 – 8 year olds featuring a junior activity unit, swings, a rotating ball, play tables, balance beams, rubber mushrooms and more! The Big Kids Playground boasts a Flying Fox, balance cable and beams, climbing units, slides and more!
Source: Hills District Mums
12. Philip Ruddock Waterpark

Dundas Park, Parramatta
The 3rd waterpark in the 2014 to be opened by Parramatta Council, the Philip Ruddock waterpark went hand in hand with council's 'Cool Parramatta' campaign- offering it's residents a chance to get out of the sweltering summer sun. Water features are integrated into standard playground equipment for hours of cooling off with a laugh, with nearby BBQ and picnic shelters for the whole family to enjoy.
Source: City of Parramatta
13. Mary O'Brien Reserve, Zetland

When this park was upgraded, it received expansive lush green area for picnics and running around, 2 awesome age-appropriate playgrounds with lots of interweaving structures to climb- and a water play area! Jets shoot water skywards on blue spongy flooring- perfect for a splash around.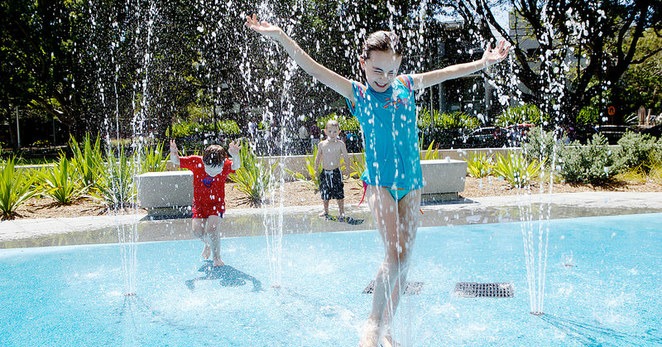 Source: City of Sydney
14. Plough & Harrow, Western Sydney Parklands

This great playground has a hamster wheel, flying fox, a 5-way swing, climbing structures, a spinning ring, little cubby house with a slide..and of course, a water play area. It's quite small, but gets the job done. It has a few pumps, and turnpikes that get released into a little mini dam of sorts that kids can direct the flow of by moving the rocks around.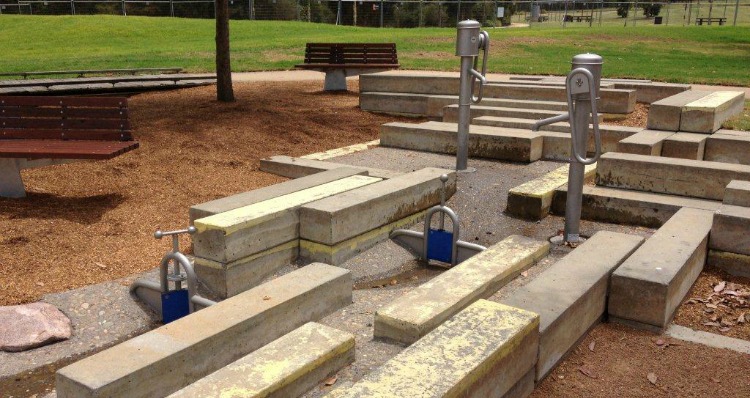 Source: Foursquare/Pinterest
15. Lizard Log, Abbotsbury

DID YOU KNOW: The Australian Institute of Landscape Architects voted this the number 1 playground in NSW and the ACT?! It truly is "nature's wonderland" with a bushland feel that encourages nature play at its finest. It has a all kinds of play equipment including a double flying fox, giant swings, climbing wall and slide, sand diggers and balancing beams- all made from recycled timbers and trees that died onsite. It's water play area is small, but still worthy of a visit.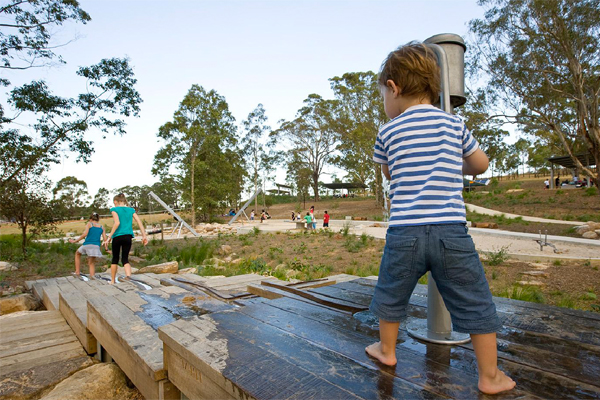 Source: INDESIGNLIVE
16. Taronga Zoo, Mosman

The children's Backyard to Bush precinct at Sydney's favourite Zoo received some water play features- as if Taronga could get any better! Taronga Zoo said "Water splashes over a sandstone frog-sculpture into a pond lined with stainless steel yabbies, ducks and lily-pads, in which pumps will be installed next year so that children can control the water flow through the shallow water play area." Kids can get barefoot and hop over stones embossed with dragonflies and make a big splash as water runs from pumps into troughs.
17. Werrington Lakes Playground

Burton Street, Werrington, NSW, 2747
After children exhaust themselves running and playing in the expansive park and playground, they can head over to the sandstone area where jets will shoot up and wet them on a hot day. This Penrith venue is well worth a visit, boasting a duck pond and BBQ area- everything you need for a family day out.
Source: Weekend Notes
18. Livvi's Place, Jordan Springs

Livvi's Place playgrounds are always terrific, and this one's still shiny and brand spanking new, too! This inclusive play space has a sandpit, trampolines, spongy flooring swings, a performance stage- and a large water play area with 6 water jets!
Source: The Daily Telegraph
An Extra One

Although it's not free, we recommend a visit to the Macquarie Fields Leisure Centre that packs a real splash! It boasts a big, colourful and extravagant water splash park suitable for all ages, with slides with hoops to travel through, water buckets, jets, and plenty of H2O.
Source: Campbelltown City Council