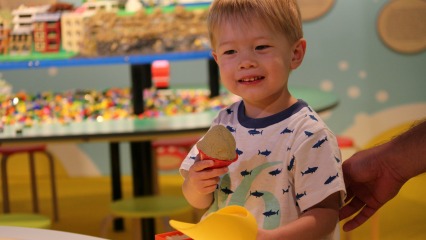 By: Vanessa Mah Chut, ellaslist explorer
Combining two activities that kids love, sand and LEGO®, into an interactive exhibition, was always going to be a winner. Add in digital sandboxes, jokes, a documentary film and more, and you know you are set for a great visit to the Museum of Sydney.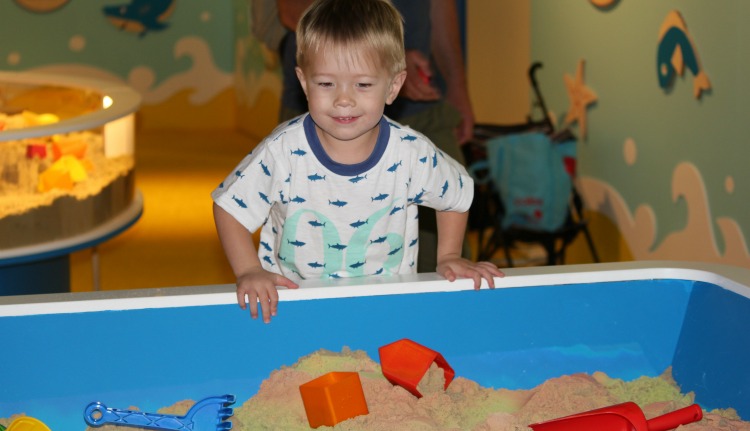 Who Doesn't Love LEGO®?

The 'Sand in the City' exhibition celebrates Sydney's stunning beaches in a variety of ways. My 6 year old son was drawn instantly to the LEGO® while the 2 year old went straight to the sand. The LEGO® section was similar to the recent 'Sydney Icons with LEGO® Bricks' exhibition in that an amazing LEGO®construction sat above a kids' LEGO®workspace.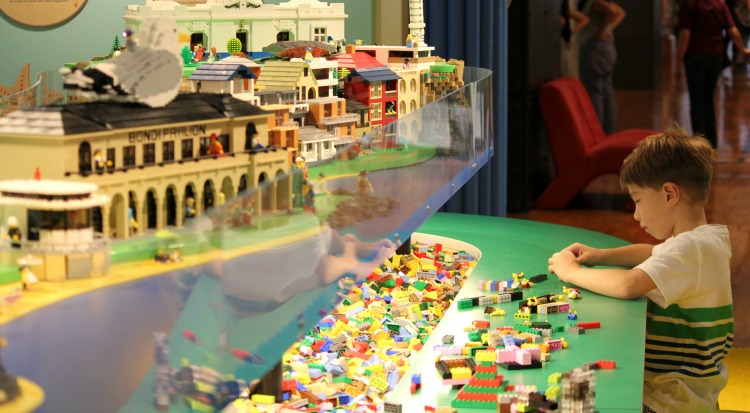 In this exhibition, Ryan McNaught has crafted a spectacular LEGO® model of Sydney's southern beaches with the highlight for me being the Bondi Pavilion.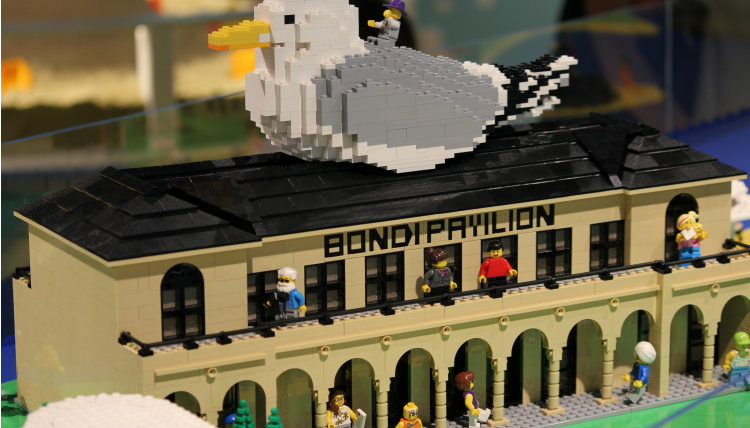 This gave the adults plenty to look at as we wondered about the time and complexities of building such structures out of LEGO® while the kids were happy to get straight into the construction. There was also a LEGO® wall where lots of people had clearly enjoyed building objects and their names out of LEGO®.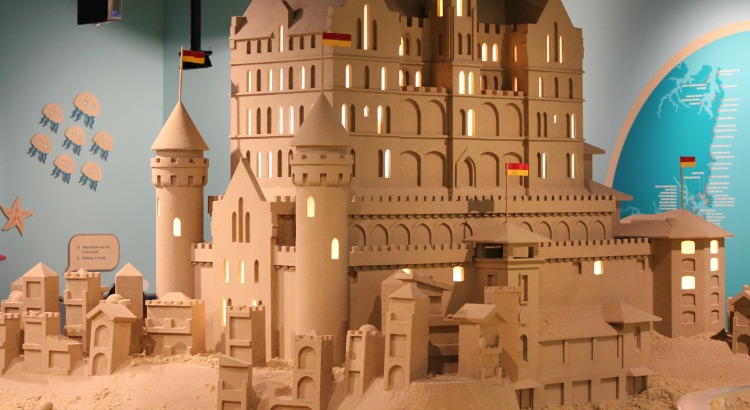 Roll Up Your Sleeves

The next section was the elevated sandpit. Yes, I said 'elevated', which meant that only their hands could go in and none of the sand travelled home with us in shoes and pockets. A genius idea! We just had to make sure that our 2 year old kept the sand in the sandpit…..There were plenty of sand toys and lots of inspiration around in the form of Yippee Ki-Yay's incredible northern beaches sand model which sat as a centrepiece at the sand table.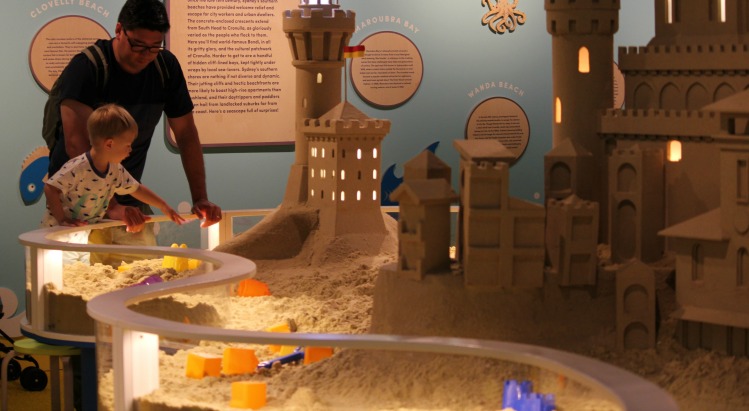 Some people felt a need to add to this amazing construction but I wonder how it might look at the end of this eight month exhibition if people continue to do this. Another concern of mine was the number of stools. Most kids will need a stool to reach into the sandpits and while there were plenty when I went, this could become a problem in the busy school holidays. TOP TIP: Visit early or late in the day. The museum is open from 10am to 5pm daily.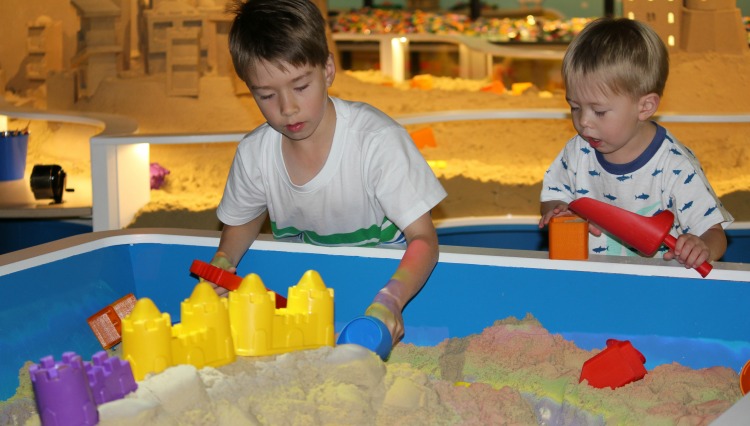 Highlight: Giant Digital Sandboxes

The highlight of the exhibition, and where we spent most of our time, was at the giant digital sandboxes with light projections that changed as the kids sculpted in the sand. It incredibly detected when the kids were digging or building and the colours changed accordingly to create landscapes. My family ended up creating a mountainous island surrounded by blue water.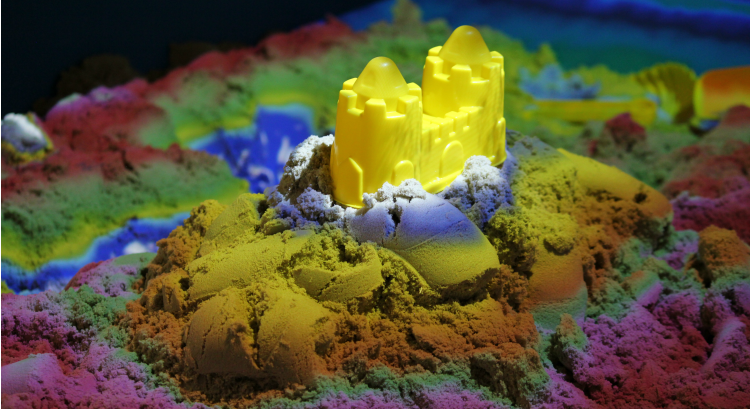 Get Creative

There was also an opportunity for the kids to draw and write about their favourite beach and add this to a wall display, as well as read and view the ideas of others. This kept the kids engaged when they had finally had enough of building, digging, sculpting and constructing.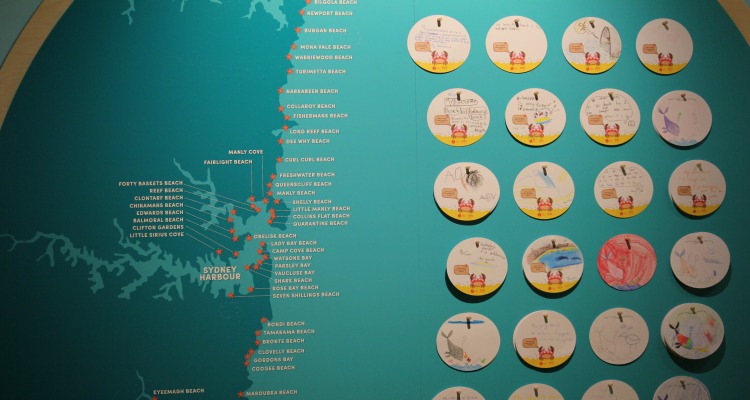 Something To Keep Everyone Engaged

While the kids were busy at the variety of activities there was plenty for the adults as well. There was lots of information on the walls. Did you know that Collaroy was named after a paddle-steamer that lay stranded there from 1881 to 1884? There was also a sixty minute documentary running at one end of the room which was great to watch and listen to while keeping one eye on the kids and their needs. It was interesting to hear about the many and varied ways that people use our beaches. Adults and children of all ages were at the exhibition and all appeared to be enjoying it immensely.
Lots More To Explore In The Museum Of Sydney

We spent about an hour and a half at the exhibition and this was plenty of stimulation for my young children. However, for those with older kids there are many other interesting displays throughout the museum. You can ask at the information desk for the Museum of Sydney Kids Guide. There was an interesting display of items that each country trades, a display of the First Fleet ships, models of the Sydney Harbour Bridge and a shellworked Sydney Opera House, as well as a craft area at the Viewing Cube, to engage kids outside of the 'Sand in the City' exhibition.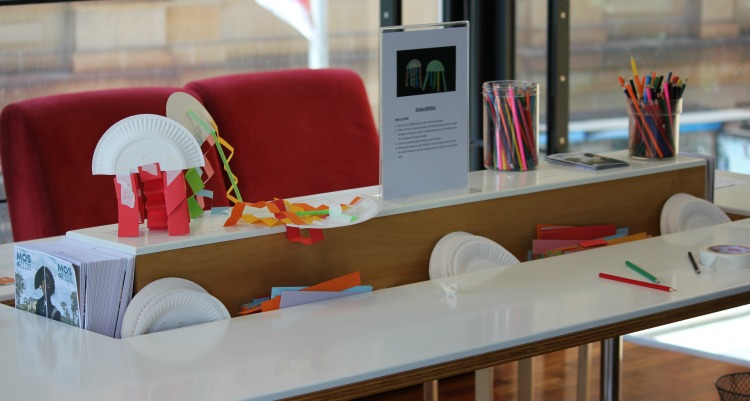 Dining At The Governor's Table

The visit is made easy by the provision of baby change facilities and the option to park your pram or keep it and travel by lift. The Governors Table Bar & Dining is also just downstairs which offers a cafe-style lunch. It also has a coffee cart which we found convenient for purchasing drinks on our way into the museum. The Governors Table is also offering a great deal where kids eat free with each adult main meal ordered when attending the Sand in the City exhibition.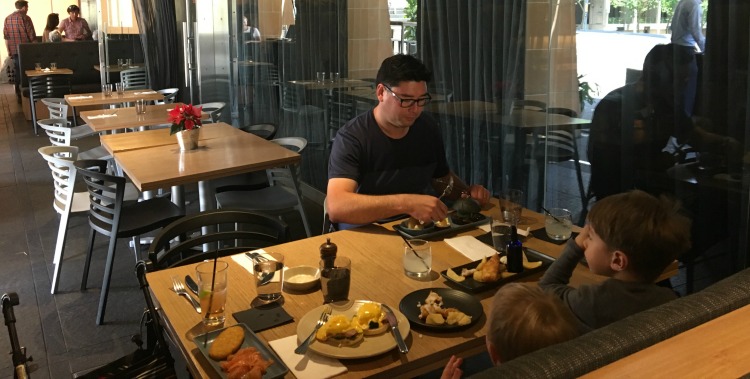 What You Need To Know

Open: 10am – 5pm daily
Location: Cnr Phillip and Bridge Sts, Sydney
Getting There: It's about a block from Circular Quay so there are lots of public transport options as well as parking stations nearby.
Prices: Adult – $12, Concession- $8, Family – $30, Members and children under 5 years – Free
More about Sand In the City Here.
I'm excited be one of the new ellaslist explorers and am looking forward to exploring Sydney further along with my mini-explorer boys Hal, aged 1, and Madden, aged 5, and the other big explorer, my husband Brad.
I'm a primary school teacher and when I'm not working we all enjoy getting out and about. With two active boys we can often be found at Sydney parks with our current favourites being Lakes Edge Park at the Ponds and the Blaxland Riverside Park at Newington. We live in the Hills district and spend a lot of our free time at the parks (and the James Ruse Reserve Water Playground), cafes and along the river in Parramatta. We enjoy going to shows together with Madden's favourite being The Gruffalo at Glen Street Theatre. We love to travel and have enjoyed recent family trips to Warren, Wagga Wagga, Bermagui, Burleigh Heads and Kangaroo Island. We have nicknamed Madden the jock thanks to his love of all sporting events so as well as watching his Saturday soccer matches we are often cheering on teams at a variety of sporting events. I just asked Madden what we do as a family and his response was 'relax', which is what we like to do after exploring all of the above.